Unforgettable adventure and comfort in Loiyangalani
By Cathy Ochung
Oasis Lodge in Loiyangalani is the only lodge on the south of Lake Turkana where you can enjoy a good swim as you take cover from the trying heat.
Hidden behind rows of swaying palm trees and outstanding stonework that makes for paths to the main restaurant, it is a gem for many reasons.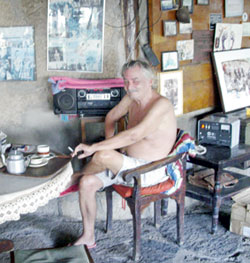 A side view of the circular lodge.
Pleasant service, varied menu and sole architecture tops the list of its significance. The lodge's distinctive setting is an additional tourist attraction not to mention the proprietor, a brusquely humorous yet witty German by the name Wolfgang Deschler and his team of cordial staff.
The lodge is circular and without walls to help keep the heat at bay. Without any warning, artefacts, collectibles from the region, pictures and cuttings, some framed on the walls, ships you back to when the town was a hot spot.
This was the location of the movie Constant Gardener and a favourite spot for photo shoots by international photographers and models all who have paid a courtesy call at Oasis Lodge.
rich history
You only need to spare sometime to chat with the owner over a drink to be a part of the rich history of the place and, of course, get the latest gossip of the area.
Then you will most likely head to the spacious rooms that still retain their old original look, where you will enjoy a cool night.
There is also space and unbelievably, green grass, to pitch tent in the event that the 24 cottages in the Lodge are fully booked.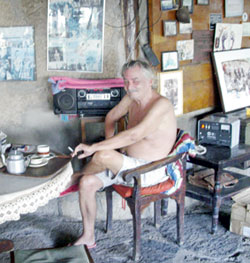 Wolfgang Deschler is always ready to regale any guest with witty tales.
Another gem, though initially appearing trivial when you are digging into your meals is the age-old cutlery, some still bear the name Lake Rudolf Lodge as it was originally known.
And as Wolfgang volunteers between a puff of cigarettes and his favourite drink: "Some tourists would pay anything to have that cutlery. My staff don't break them, it is the tourists that pinch them and reduce them in number," he jokes.
Tecno launches Camon 19 and Spark 9
Tecno Kenya announces launch of Camon 19 series & spark 9 seriesThe CAMON 19 Series will offer incredible night-time photography features & the SPARK 9 Series will redefine selfie and iconic design for Gen Z.