Why President Uhuru Kenyatta will not be part of Azimio campaign trail-Murathe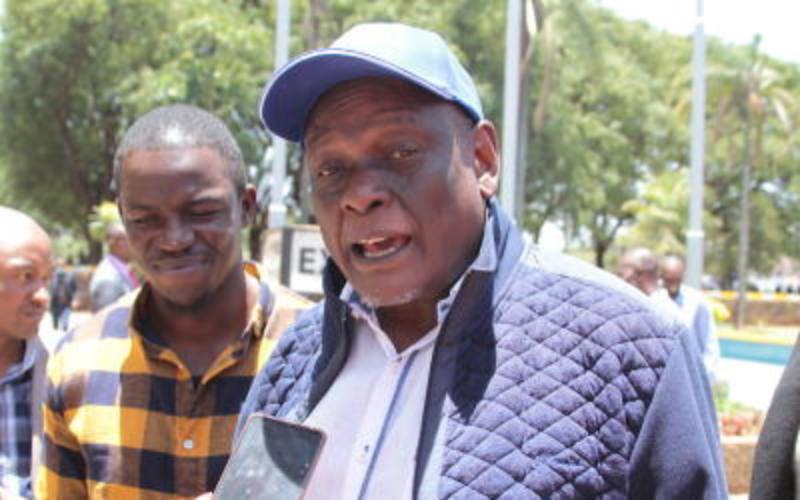 Jubilee party vice-chairman David Murathe has weighed in on the speculations, by a section of politicians, concerning the absence of President Uhuru Kenyatta on the Azimio campaign trail.
Murathe's sentiments come in the wake of Uhuru, a co-founder of Jubilee and Azimio la Umoja, significantly retreating from direct involvement in Raila Odinga's Azimio la Umoja-One Kenya coalition presidential campaign.
President Uhuru Kenyatta has not been seen in the coalition's public events since some 26 political parties signed documents binding them to the coalition. He was not present at the naming of Raila's running mate.
In an interview with NTV on Wednesday, May 25, Murathe said president Uhuru's loud absence from Odinga's campaign was because his work in the coalition was over.
He says being the chairperson of the Azimio la Umoja council, his work was to oversee the process of setting up the coalition's structures and putting together the ticket.
"President Uhuru Kenyatta has done his bit. He has been the chair of Azimio la Umoja council and the Party leader and flag bearer of the coalition is Raila Odinga,' Murathe reiterated.
"The President is part of the council and now that there is a ticket, all he has to do is sit back and go back to being the Head of State. You don't expect to see him on a Landrover campaigning," he added.
The Jubilee party vice-chair opined that it was not Uhuru's responsibility to campaign for anyone. He says his declaration of his preferred candidate was enough.
"President Uhuru has pronounced himself on why he prefers Raila's Azimio and not Kenya Kwanza. In fact, he is not on the ticket and is actually going home in less than a hundred days. What matters is that he has overseen peace in the country,' Uhuru's ally said.
"Once in a while he can express himself and convince a few people why he prefers Azimio over Kenya Kwanza while opening his projects. He will pronounce himself and people who believe in him will agree with him. There is no problem with that," he added.
When asked whether his close ally would hand over power even if Azimio loses the August 9 polls, he said Uhuru will do what is constitutionally right.
"President Uhuru will hand over the instruments of power to whoever will win the election. He will gracefully hand over," Murathe said sternly.
The president's close ally has also clarified how the proposed chief minister position by Odinga will work.
While unveiling his running mate a week ago, Odinga said if the wins the upcoming polls, then Wiper party leader Kalonzo Musyoka would be the Chief Minister, a position that is not recognized in the constitution.
Murathe says the Chief minister position will first have a cabinet portfolio before they are tasked with the chief minister's responsibilities.
"A Chief Minister is like Interior CS Fred Matiang'i. He must first be a CS before being tasked with the responsibility of coordinating operations. At no given point will this role conflict with the Deputy President's roles," the former Gatabga MP said.
Moreover, Murathe said that despite Kalonzo being a member of the Azimio coalition legally, the coalition was not opposed to his decision to run for presidency outside the coalition.
Murathe is said to be President Uhuru's close confidant and go-to guy when the Commander-in-Chief needs back-room advice on all matters political.
Despite commanding great influence among the country's ruling elite, David Murathe has for the most part steered clear of the political limelight instead of opting to pull the strings from the shadows.