Involvement of CSs in Raila campaigns stirs legal debate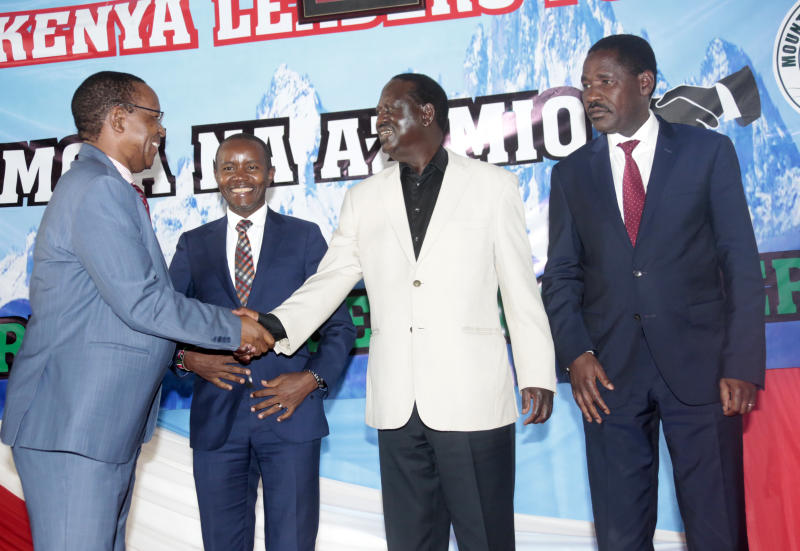 Legal experts have warned that Cabinet Secretaries who are campaigning have unwittingly created grounds for a presidential petition should their preferred candidate win.
The recent appointment of four CSs as part of the campaign team of Azimio la Umoja One Kenya flag bearer Raila Odinga has reignited debate over the legality of their involvement in politics.
The debate, which has recently provided ammunition to the Kenya Kwanza Alliance and Azimio, emerged after Cabinet secretaries Peter Munya (Agriculture), Ukur Yatani (Treasury) and Eugene Wamalwa (Defense) were appointed to lead presidential campaigns for Mr Odinga.
Cabinet Administrative Secretary Rachael Shebesh is also on a list of individuals tasked to campaign for Azimio.
This came a day after Deputy President William Ruto's troops in Kenya Kwanza warned CSs to keep off the elections, accusing them of interfering with the work of the Independent Electoral and Boundaries Commission (IEBC).
Constitutional lawyer Bobby Mkangi said that Cabinet secretaries taking part in political activities is not what the drafters of the Constitution envisaged.
He warned that this could open an avenue for poll losers to challenge election results in court.
"The CSs involvement is only arming those who will want to come and later challenge the results of the election should there, for instance, be an issue with the ICT technology … the conduct of the CSs already compromises the perception of how elections will be conducted and outcome of the polls," Mr Mkangi said.
So, what does the law say?
According to Section 23(2) of the Leadership and Integrity Act, "An appointed State officer shall not engage in any political activity that may compromise or be seen to compromise the political neutrality of the office subject to any laws relating to elections."
This is one of the provisions of the law that Kenya Kwanza has been relying on in calls for the resignation of CSs engaging in politics.
During campaigns in the South and North Rift on Monday, the Kenya Kwanza brigade accused CSs Fred Matiang'I (Interior), Joe Mucheru (ICT) and Margaret Kobia (Public Service) of alleged interference in election preparations.
Last year, United Democratic Alliance (UDA) Secretary-General Veronica Maina wrote a protest letter to IEBC over the inclusion of two CSs in a multi-agency team planning for a free, fair and transparent General Election.
In the letter dated October 29, UDA sought the removal of Dr Matiang'i and Mr Mucheru from the team since they were openly campaigning for Mr Odinga's candidature.
But CSs across the board and President Uhuru Kenyatta's loyalists have also accused Ruto and his allies of preaching water but drinking wine. They argued that Ruto was a member of the Cabinet and a Deputy President who had taken a political position.
Azimio stalwarts also questioned the DP's use of State resources–such as vehicles, personnel, funding and official residence–for his campaigns.
Mr Mucheru recently accused Turkana Governor Josphat Nanok of using State resources to campaign for Ruto. This was after Mr Nanok called for the resignation of Mr Mucheru over claims that he was out to influence the conduct and outcome of the polls by virtue of his docket.
The governor also accused the CS of using State resources to campaign for Mr Odinga.
"A governor campaigning for a presidential candidate, who continues to remain as the Deputy President, is writing to IEBC about a CS in the same Government, to explain how he will use resources?" Mr Mucheru posed. "How about the Governor and the DP, what resources are they using? Who is fooling who?"
In their defence, CSs have cited the Leadership and Integrity Act Section 23 (1) which, they argue, exempts them in terms of participation in political activities.
"An appointed State officer, other than a Cabinet Secretary or a member of a county executive committee shall not act as an agent for, or further the interests of a political party or candidate in an election; or manifest support for or opposition to any political party or candidate in an election," states the Act.
Accordingly, CSs like Munya, Matiang'i, Mucheru and former CS Sicily Kariuki have featured in Mr Odinga's events in Meru, Kisii, Tharaka Nithi, Nyandarua, Kiambu and Embu counties where they have openly endorsed his candidature.
Their actions are presumably premised on Article 38 of the Constitution on the Bill of Rights which states: "Every citizen is free to make political choices which include to form or participate in forming a political party, participate in its activities and campaigning for its cause."
Mr Mkangi said that there was a deliberate effort to de-link the work of the CSs and that of politicians to ensure there was service delivery during the writing of the Constitution.
"I know the Leadership and Integrity Act brings confusion on whether CSs can engage in politics, but it is important for them–especially those in the Interior and ICT dockets–to remain politically neutral so that they can command confidence from all Kenyans and not only those that support the current regime," he said.
Law Society of Kenya (LSK) President Eric Theuri said CSs who engage in political activities should be sanctioned.
"The right and most honourable thing for CSs to do is to resign and then participate in politics. The reason being you do not want public resources being used in propagating partisan political activities," said Mr Theuri.
The LSK president said that the use of State resources in the campaigns creates an uneven playing field whereas the intention of electoral campaign laws is to ensure a level playing field for all candidates.
"For them (CSs) to stay in office and propagate the ideals of politics goes against the dictates of the law. They are under a continuous obligation not to act in a manner that attracts ridicule to the offices that they hold. Appropriate sanctions should be sought against any CS who engages in political activities," stated Mr Theuri.
IEBC Deputy Commission Secretary Operations Ruth Kulundu said that the electoral agency's position was as earlier communicated by IEBC chairperson Wafula Chebukati.
In November 2021, Mr Chebukati pronounced himself on the matter where he warned CSs to keep off politics. In response to the protest letter by UDA, Mr Chebukati reiterated that State officers should stay away from activities that may compromise the office's political neutrality.
He said Section 23 of the Leadership and Integrity Act, 2012, which seems to give Cabinet secretaries and County Executive Committee Members a lifeline to engage in political activity, is not sufficient.
"As far as I'm concerned the stand remains the same. We still stand by it unless our boss Chebukati, who is the official spokesperson, says otherwise," said Ms Kulundu.