Somalia election: Kenya should not lower guard on security risks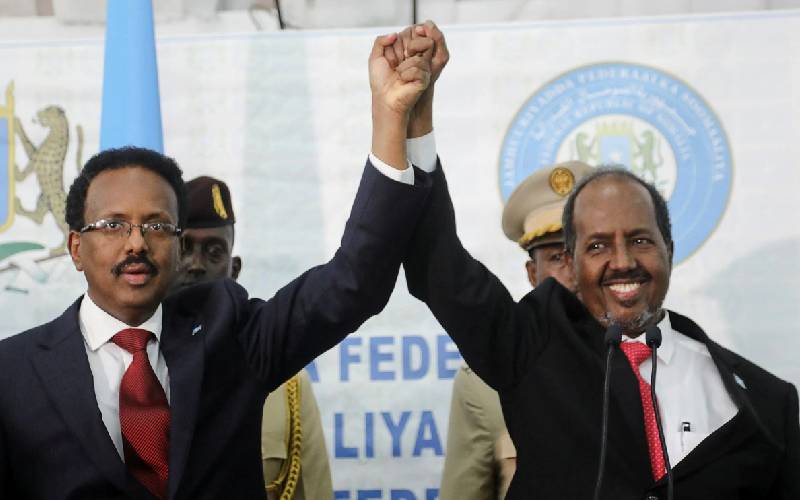 Countries in the Horn of Africa appear to compete for geopolitical notoriety, with Somalia often at the top, which makes positive news from the area a relief.
In Mogadishu on Sunday, May 15, 328 clan representatives in the House of the People, HOP, elected Hassan Sheikh Mohamud as president. His opponent in the race, President Mohamed Abdullahi Mohamed Formaajo, conceded defeat.
In the last decade from 2012, the two men have been responsible for Somali internal tribulations and regional mischief. Kenya, the victim of most of Somali generated mischief in the form of refugee influx, terror attacks, and maritime aggression has a security interest in ensuring continued stability in Somalia.
The Kenyan interest goes back to the early days of post-colonialism. Somalia, combining British and Italian colonial identities, tried creating a new national identity by adopting a losing irredentist 'nationalist' doctrine to glue people together at the expense of Kenya, Ethiopia, and Djibouti. This led to two losing wars which melted the 'glue'. First was a Somali-Kenya quasi-war labelled 'shifta' and second a Somali-Ethiopian War, the Ogaden War. With the melting of the 'glue', Somalia disintegrated largely into its colonial identity fragments.
Controlled by warlords, Somalia became a haven for assorted terrorists such as the Al-Shabaab, proxy for extra-continental geopolitical power games, and of increased security concern for Kenya.
Kenya had closely followed developments in Somalia, hosted the Somali government, and participated in the making of the 2011 Somali Provisional Constitution which allowed autonomy among the various states and established the Federal Government of Somalia (FGS) in 2012.
Hassan Sheikh Mohamud was elected president under the system and appeared to be beholden to powerful extra-continental states which jumped in to ensure that the new FGS did what they wanted. They created SOMA Oil, paid the salaries of top government officials, especially those in the petroleum sector, and received permits to explore for maritime oil and gas near Kenya's border.
Thereafter in 2014, with a Somali judge at the ICJ, bankrupt Somalia found resources to go to The Hague and claim Kenyan waters. At the time, Western powers who had not wanted Kenyans to elect Uhuru and Ruto appeared determined to fix Kenya; encouraging Somali maritime irredentism was one way to do it.
Three years later in 2017, Mohamud was dethroned by Mohamed, alias Formaajo, who reportedly liked Italian cheese. Formaajo, besides continuing with maritime irredentism, blundered by trying to centralise power and entering into a three way anti-Kenya alliance involving Eritrea and Ethiopia.
Besides whipping 'nationalistic' anti-Kenya hysteria to win popularity, Formaajo was reluctant to hold elections which were delayed from February 2021 to May 2022. Given that Mohamud is the same person who turned Somalia into an anti-Kenya proxy for extra-continental geopolitical mischief, Kenya should not lower its guard on maritime security and Al-Shabaab terror related threats.
Among his first statements, for instance, was to commend Turkey for being in, he said, a "very unique position towards the hearts of Somalia." That unique position includes having the largest embassy structure in the world, and the largest military base outside Turkey, in Mogadishu as part of Turkey's 'Neo-Ottoman' project.
Somali relations with the United States, which is ambivalent on Somalia, are not as comfortable as those with Turkey. The Biden Administration welcomed Mohamud's return to power by returning troops that President Donald Trump had withdrawn.
In doing so, the United States is seemingly close to Kenya's position of supporting the positive Somali election outcome while adopting Careful Engagement approach on matters of security in Eastern Africa. The Careful Engagement is necessary partly because Mohamud is not in his first term, in control of Somalia internally or externally. The number of foreign troops from Turkey, the US, and the African Union claiming to help keep the peace appear to be so ineffective that Al-Shabaab remains a force to reckon with throughout the country.
If the Al-Shabaab, as Major General (Rtd) Charles Mwanzia argues, maybe seeking inclusion in the governance of Somalia, some serious rethinking on the part of both Mohamud's new government and other interested parties would be appropriate.
Kenya, being an interested party and a regular victim of Somali generated mischief, also has to do some serious rethinking. It has to do this without losing sight of the conflicting geopolitical interests in Somalia of such extra-continental forces as Turkey, the United States, Britain, the EU, Arab countries, and China.
With the Careful Engagement approach, therefore, Kenya should not be surprised if Muhamud, partly as a proxy of extra-continental players, poses additional challenges to Kenyan interests.
EABL invests Sh5b in biomass plant
EABL Managing Director Jane Karuku (second left) said the biomass plant would help the brewer achieve a net-zero status and reduce its carbon emissions by 48,000 tonnes annually.