Why Nairobi remains the biggest economic parasite
OPINION
By XN Iraki | Jul 23rd 2019 | 5 min read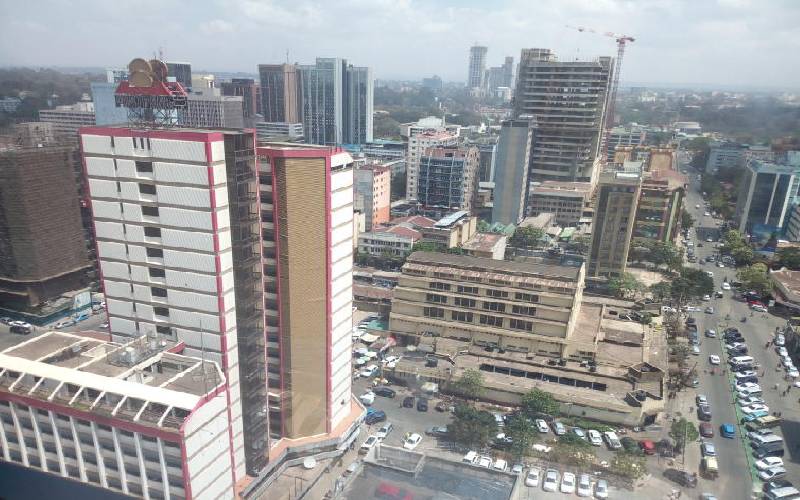 If you asked kids to name the biggest parasites in Kenya, they will quickly list ticks, cockroaches, fleas, mosquitoes or mice depending on where they grew up. But the biggest parasite in Kenya is not a living thing, it is a city called Nairobi.
In its 120 years, it has perfected its economic parasitism.
Most attempts to end its parasitism have ended up enhancing it. First, how and why is this city a parasite?
While my answers could annoy Nairobians, which is held in high esteem in the counties, including getting special meals during funerals, the facts remain. History has been Nairobi's main sources of parasitism. It was designated the capital in 1899 after a stint when Machakos was the capital, a fact the town has refused to exploit.
Why isn't there a big signboard as you enter Machakos written: "Welcome to Kenya's original Capital." Being the capital city means many people pay homage to their money.
Citizens troop from all over the country looking for government services like passports or to seek out their leaders for whatever reason, including handouts.
They leave their money in the city; they eat, sleep or buy goods and services. Their high numbers make it easy to raise the prices of goods and services.
Remember the law of supply and demand? Extracting money and other resources from the counties or rural areas is the key plank in Nairobi's parasitism.
Once you have paid a high price for services (goods are usually cheaper), you go boasting about it.
A cup of tea and mandazi in Kinangop could cost you Sh20.
The same tea with less milk and in a smaller cup will go for Sh200 in a typical hotel, especially in the so-called starred hotels. I was once sold milk more cheaply than tea in Kinangop because "nothing was added to it." Hear that Nairobians?
The rush to be associated with Nairobi adds to cultural parasitism. We always report that so and so is a Nairobi businessman. Rarely do we talk of businessmen from Shamakhokho or Nanyuki.
Interestingly, its immigrants not indigenous Nairobians who are more likely to show off their "Nairobism." Our fascination with Nairobi starts early, with the popular school visits and the media's overreporting of Nairobi.
Parasites suck our blood. Nairobi sucks our economic blood.
Parasitism goes farther. Nairobi pollutes her rivers to get water from elsewhere.
Why can't we build a dam on Nairobi River and supply homes with that water?
Nairobi and Gatharaini Rivers are not seasonal. Nairobi gets her food from elsewhere. Who said we can't keep chicken, cows or grow crops in Nairobi?
Security guards
Some parts of Nairobi are very fertile and can contribute to feeding the nation.
The food parasitism is the most interesting; everyone brings foodstuffs and lowers the price of food. Supply and demand again.
No wonder we have never had food riots in Kenya. Nairobi is parasitic in security too. Most security guards are sourced from outside Nairobi.
Few indigenous Nairobians are security guards; they probably aspire for higher jobs. The popularity of "rural" security guards could be based on their perceived trust. Housework in Nairobi is done by "outsiders."
House girls and boys are mostly sourced from rural areas. The same applies to gardeners. In Industrial Area, lots of casual workers are likely to have rural origins living in Nairobi slums. Cheap labour is at the core of Nairobi's parasitism. What does Nairobi do for itself?
At night and during the daytime, Nairobi is an active parasite. Attempts to end this parasitism have not been very successful. Jomo Kenyatta's call "turudi mashambani" went unheeded as rural-urban migration accelerated after uhuru.
The rural folks migrating to city dream of being parasites themselves one day. The most fascinating tenet of Nairobi's parasitism is a brain drain.
Think of the brightest girl or boy from your primary school to university. They all ended up in Nairobi! They end up doing Nairobi's brain work and thinking.
Nairobi's disproportionate contribution to the Gross Product (GDP) has a lot to do with this brain drain. For its parasitism, Nairobi gift to those it sucks economic and cultural blood is disdain. Ever been called a "mshamba" or "green"?
Some could argue that Nairobi is a conduit for international parasitism. Those out to get cheap economic blood out of us make Nairobi their home.
The extreme parasites like crooks, fraudsters, and cons are domiciled in Nairobi.
One would say in hushed tones that our politicians' attempt to increase their pay smacks of parasitism. Attempts to end Nairobi parasitism have been muted.
Devolution was supposed to "deparastise" Nairobi. It ended up doing the opposite.
Officials from the counties are forever trooping to the city bringing back the money sent to them. They are either spending or investing it. Where does the money to build all the highrise buildings in Nairobi come from?
Cars bearing county number plates ply city roads daily.
Coming to Nairobi, living there, squandering money or investing there is considered cool; you stand out above the others.
The money devolved to counties eventually comes back. How many professionals relocated to counties after devolution?
Buildings, highways and the standard gauge railway would enhance Nairobi's parasitism, not end it. They will make it easy to extract the brains, the food, and the other resources from the counties. And I am a victim.
After coming to Nairobi as a schoolboy, I never left.
The best way to "deparastise" Nairobi is to give it a competition. Why not have regional cities.
My suggestion is Garissa, Embu, Meru-Isiolo, Nakuru-Nyahururu, Eldoret-Kitale, Kisumu, Lodwar, Mombasa, Makindu, Wajir among others.
The US whose constitution we borrowed heavily from has such regional cities. It will, however, take years to make Kenyans change their mind, stop fascination with Nairobi, its lights, myths, and reality.
Deconstructing a 120-year-old obsession with a city is not easy but it's worth trying.
Or do we just accept that parasites will always be with us and part of the ecosystem? What do you think Nairobians?
-The writer is an Associate Professor, University of Nairobi