Land ownership still far-fetched dream for poor, voiceless widows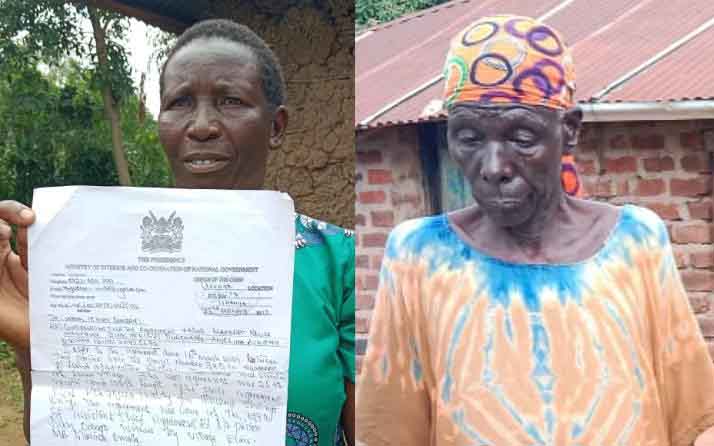 As the world celebrated International Women's Day this week, Siaya women had nothing to smile about. Because when it comes to land ownership, it remains a far-fetched dream.
Theirs is a sad story. Land rights don't favour them and this has resulted in them losing land and property. Further, lack of proper documentation like title deeds, greedy relatives and lack of legal fees have escalated the issue.
The most affected are the widows, who are in most cases chased away from their matrimonial homes by relatives.
This was the case for Angeline Ochieng Okumu, 48, who is now living at her maternal home in Dibuoro village in Nyadorera, Alego Usonga sub-county. She was married in Kanyalal village in Alego.
After the death of her husband, she managed to buy land in 2009. She went ahead to build a house where she moved in with her children.
However, her happiness was short-lived.
"I built a home and moved in with my children. However, in November 2018, I received a directive from the courts to vacate the land. My house was demolished and I was forced to seek refuge at my late grandmother's house," she narrates.
Ochieng said by the time the demolition was happening, she was still processing the title deed but had a written agreement, which had been signed by the assistant chief.
She reveals the woman who sold land her land passed away a few months after signing the agreement.
" I bought the land at Sh30,000 from a woman, who later died from cancer. It later emerged that she had not informed her relatives, who went to court and sought an eviction letter. I lost my home and property," she said.
The widow, however, questions how the matter was handled since she didn't receive any court summons or an official eviction letter.
"I tried seeking help from lawyers based in Siaya town and also court officials but no help was forthcoming because I had no money. No one told me about the court case. None of her relatives approached me. I am still counting losses," she narrates.
Paulina Anyuogo from Nyandiwa sub-location in Sulwe village is another victim. She lost three parcels of land and her house to her in-laws.
Anyuogo says her relatives sold the entire family land after the death of her husband forcing her to rent a house.
"Before my husband died in 1973, we lived in Awelo, Siaya town. However, after he passed on, together with my son, we relocated to Sulwe village where I constructed a house. For four years, we lived peacefully until one day one of my in-laws came and evicted us," she says.
She claims that the man came with a sale agreement, demanding she move out since the family had already sold the land to another family.
"My daughter rescued me and she took me to her matrimonial home in Migori County. Later, she rented a house for me. I was devastated since they took advantage of my ignorance," she says.
Another widow from Ugenya, Siaya county purchased land in 2003, but her in-laws repossessed the land.
"My husband bought a one-acre piece of land where we farmed. We had a written agreement with the seller. Village elders, our families and the assistant chief were our witnesses. We had started processing the title deed, but my husband died before the process was completed," narrates Susan Akinyi.
Akinyi says two years after the death of her husband, one of her in-laws, who lived in Mombasa, returned home and claimed he had not been consulted before the land was sold and demanded it back. "He became violent and threatened everybody. He insisted I accept Sh80,000 in exchange for the land or I lose both. I tried seeking help from the assistant chief, but I lost the case," she added.
Siaya Police County Commander Michael Muchiri says such cases are common and linked to a lack of proper documentation and consultation.
"Land issues are a headache. We advise these women to ensure they follow the right procedures before purchasing any land," he said.
Muungano Network, an organisation dealing with gender issues in Siaya has been working with Maendeleo ya Wanawake office in the county to assist the affected women.
Sharleen Atieno, who works with Muungano Network, as a human rights activist says the majority of widows in Siaya County have lost their land and property to in-laws.
"There is a need for a gender desk at the land's offices where women are educated on land issues and how to legally acquire land," she notes.
Siaya county land registrar Alex Mutua says they have received many cases. "Land issues are very sensitive. We receive so many cases and unfortunately, most of the victims lack proper documents to assist with the investigation," he said.