Coast hopes on President Samia Suluhu after six years strained trade ties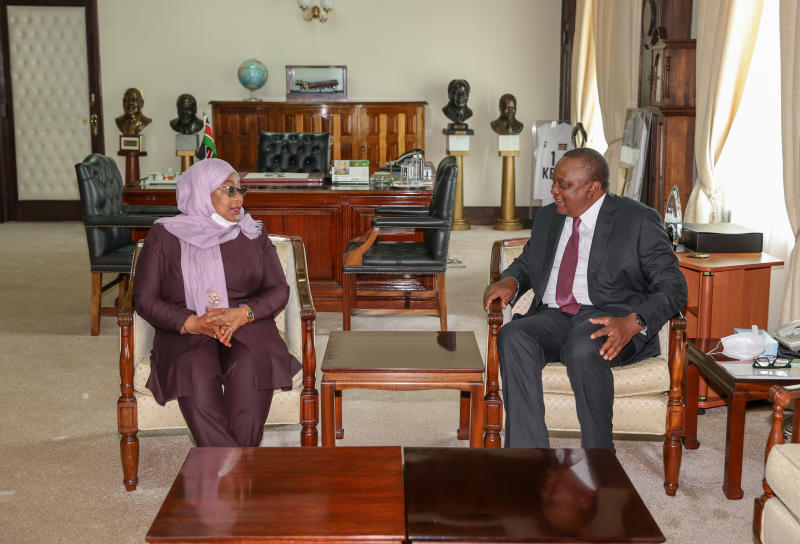 For the past six years, Coast region has borne the brunt of nationalist policies of the Tanzanian administration, which have been blamed for the strained trade relations between the two neighbouring nations.
The tit-for-tat diplomatic relationship between the two nations heightened in May last year after Tanzania banned Kenyan trucks from its territory. This affected evacuation of cargo from Mombasa to the northern part of Tanzania.
Yesterday, Kenya Transport Association (KTA) chief executive Dennis Ombok noted that business through Lunga Lunga, Namanga and Taveta border went down after the ban.
"Mombasa port was affected by Tanzania's nationalism politics, but the biggest hit came in May when the country banned Kenyan trucks from entering its territory," said Ombok. Over 1,000 trucks and small canters transport goods to either side every month. "Canters mainly transport foodstuff from Tanzania to Mombasa as well as the rest of the Coast region," said Ombok.
Statistics from Kenya Ports Authority (KPA) show that since 2015, trade between Mombasa, northern Tanzania, and the island of Zanzibar has been on a downward spiral.
Cargo traffic from Mombasa Port to Tanzania dropped by 9.4 per cent in 2019. Goods to countries that rely on the Tanzania transport network also fell.
The collapse of Voi-Mwatate-Taveta-Moshi railway line transport 17 years ago accelerated the drop in trade between the Kenyan Coast and northern Tanzania, as well as Zambia and Democratic Republic of Congo.
"But the booming business is no longer there after the national government neglected and suspended the railway line that stretches up to Moshi in Tanzania," Ombok said.
Kenya Railways (KR) suspended the railway line which also linked Mombasa to Burundi and Zambia. KPA has been pushing for the re-opening of the line. In July this year, Tanzania also banned Kenya Airways. This is after Kenya failed to put Tanzania on the list of countries whose citizens could fly into the country without being put on 14-day quarantine due to Covid-19 regulations.
Stringent rules
Tanzanian administration's policies that some have described as erratic also affected the tourism sector in 2018 after Dodoma imposed travel restrictions on Kenyans at the border point.
Kenya retaliated by banning Tanzanian tour vans from accessing Jomo Kenyatta International Airport (JKIA). Tanzania hit back by imposing more stringent rules at the border points.
There has also been a tiff between Kenyan fishermen on the South Coast near the border with Tanzania. The Kenyans claim Tanzanian fishermen were using illegal gears.
"In the past six years, we also saw tension between us and our neighbours from Pemba in Tanzania rise. They are well skilled and have sophisticated gears and they enter into our waters," said Mercy Wasai, the chairperson of Beach Management Unit network.
Tanzania has over the years been the breadbasket of the Kenyan coast. The region imports cereals, vegetables, onions, fruits and building materials such as timber from Tanzania. The neighbouring country also sells its tea at the Mombasa auction.
On the other hand, the Kenyan coast exports agricultural products such as coconuts and cashew nuts to Tanzania. In 2009, Kenya banned export of raw cashew nuts in a bid to revive the nut processing sector. This has affected export of the nuts to Tanzania as well.
On tourism, Kenya Tourism Federation (KTF) said there has been friction between the two countries, especially in sharing Tsavo National Park in Taita Taveta and Kilimanjaro in Tanzania.
"It is refreshing for the new Tanzanian leader to visit Kenya. We are glad that she is keen to build strong relations with her neighbours considering that a few weeks ago she visited Uganda," KTF chairman Mohamed Hersi.
Tour operators said that with cordial relations between Kenya and Tanzania, there will be smooth cross-border transactions with no restrictions on the movement of tour vans.
"We are looking at seamless travel into Tanzania and vice versa. Tourists will be able to have a convenient time to cross the common border with no hassles," said Mr Solomon Wao, the chief executive of One World Adventures, a tours and travel firm. Hassan Mwakimako said President Samia Suluhu, as a student of former presidents Jakaya Kikwete and Ali Hassan Mwinyi, is likely to adopt policies that will foster East African Unity.
"Suluhu is a protégé of Kikwete who strongly believed in the East Africa Community dream. The Kenyan Coast should not expect an abrupt shift, I believe it will happen gradually," Prof Mwakimako.
Halim Shauri says that political activities in Zanzibar have also had a bearing on the Kenyan coast especially in Kwale, Mombasa and Kilifi. "The Magufuli regime continued with what Kikwete and the late Benjamin Mkapa did to quell the secessionists in Zanzibar and in a way it also ended the same gitation in Kenya," said Prof Shauri.
Coastal Kenya and northern Tanzania share historical, religious, tribal and cultural bond dating back to the 16th century when the Sultan of Zanzibar ruled the current 10-mile coastal strip.
Tanzania is among the first countries in Africa to open a consulate office in Mombasa. And along the Lunga Lunga border, there are Digos of Kenya and Tanzania. The Taveta community in Kenya shares the same heritage and language as Pare community in Tanzania.