How cheap food imports from Tanzania bridge deficit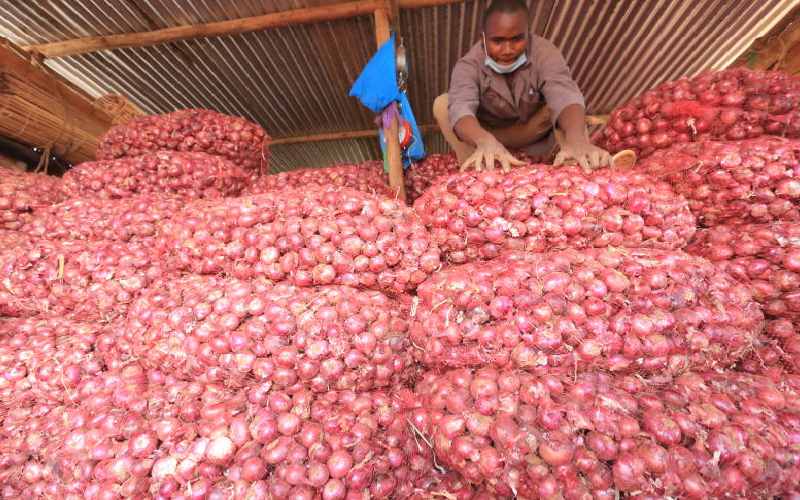 Data by the Kenya Health Inspectorate Service (Kephis) shows that approximately Sh15 million was collected at the Kenya-Tanzania border post from food imports from Tanzania in the last three years.
Food imports from neighbouring Tanzania into the country have for years been helping bridge the gap of insufficient supply and a huge demand for the products.
Traders source cereals such as rice, sorghum, millet, maize, and fruits such as pineapple, oranges, watermelon, bananas, and tangerine from Tanzania.
The government has, however, banned the importation of maize from the neighbouring country.
Other products imported from Tanzania include animal feeds like cotton seed cake, sunflower seed cake, rice bran, and vegetables such as onions and tomatoes.
Commodities identified to be contributing the highest revenue include rice, maize, tomatoes, oranges, and pineapples.
However, revenue collection at the border has been a challenge due to foodstuff transported through the porous borders, which lead to the loss of millions of shillings in uncollected revenue.
"Data from unofficial routes is currently unavailable, however, we are addressing this together with other stakeholders at the border post," said Theophilus Mutui, Kephis managing director.
Before banning maize importation in March, Kenya imported 4.47 million kilogrammes of the produce from Tanzania annually.
The country also imports 5.17 million kilos of rice annually, most of which finds itself in Migori markets.
The country further imports 58,500kg of groundnuts, 99,000kg of green grams, 49,000ks of pigeon peas, 49,700kg of millet, and 1,600kg of bambara nuts. Others are 2,200kg of sorghum, 2,110kg of beans, 525kg of sesame, 100kg of cowpeas and 70kg of cardamom annually.
Transport coast
Kenya also imports 140,856kg of tomatoes, 121,550kg of oranges, 55,352kg of onions, 55,973kg of watermelons, 121,280kg of pineapples, 15,370kg of lemons, 49,162kg of bananas, and 2,880kg of avocados.
Others food imports include 2,990kg of grapes, 443,600kg of cassava, 104,490kg of sweet potatoes, 8,560kg of passion fruits, 19,080kg of mangoes, and 5,000kg of capsicum.
According to Migori traders, getting commodities from Tanzania is much cheaper as the transport cost is also favourable.
"What makes us get our stock from Tanzania is that their products are much cheaper and we use less money in transporting them," Alice Odhiambo, a vegetable vendor says.
Traders also prefer importing onions from Tanzania as they are of superior quality compared to the ones grown in Kenya.
Mercy Anyango, an onion trader in Migori says before fuel prices went up, they would buy one kilo of onions between Sh20 and Sh22, but now the prices have shot to Sh35.
While transporting the onions one needs Sh1,800 from the previous Sh400 a sack, the traders now rely on suppliers who bring them from Tanzania with prices ranging from Sh200 to Sh300 per sack.
Christina Makoreri, who supplies onions to traders at Migori market, says she buys a 40kg bag of onions at Sh7,000 and sells the same at Sh9,000, earning her Sh2,000 profit.
"Traders usually scramble for my onions because they are fresh, of good quality, and pocket friendly," says Makoreri.
Rosemary Mwita, who imports onions, garlic, lemons and cucumbers, says she started bringing the produce from Tanzania to Migori after she realised the demand was high.
"There is a very high demand for Tanzanian products here because of the quality and price," Mwita says.
Loice Chialo, who specialises in importing rice from Tanzania, says she has no regrets since she ventured into the trade three years ago.
She gets a 90kg bag of rice from Tanzania at Sh4,000 which earns her Sh500 profit.
Data from the department of Crops in the Agriculture, Livestock and Fisheries Development docket in Migori shows that in 2019, Migori produced 103. 9 million kilogrammes of maize, 230,000kg of rice, 10 million kilos of sorghum, one million kilos of millet, and 5.3 million kilos of tomatoes. The county also produced 600,000kg of bulb onions, one million kilos of spring onions, 2.8 million kilos of groundnuts, 90,000kg of oranges, 25,000kg of lemon, 60,000kg of mangoes, 20,000kg of avocados, and 304,000kg of watermelons, among other produce.
According to Migori Agriculture Executive Valentine Ogongo, the county relies heavily on food imports from Tanzania as demand outstrips production.