KQ's Sh500m stuck in its foreign accounts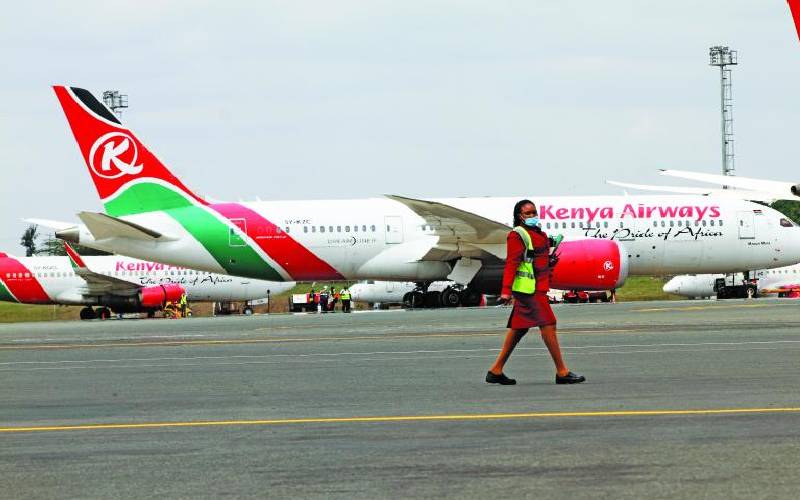 Kenya Airways (KQ) cannot repatriate over half a billion shillings trapped in foreign nations, mostly in Africa owing to restrictions in movement of foreign currency.
The carrier last week said, as of June 2020, it had Sh520 million in its accounts in a number of African markets where it plies but cannot move it to meet its pressing needs.
The blocked funds are from ticket sales, and usually sit idle in is accounts in the respective countries as a result of dollar shortages or regulatory obstacles.
"What happens under normal circumstances is that you are able to move the funds freely," said KQ Chief Financial Officer Hellen Mwariri.
"In countries that have no currency restrictions, immediately you sell, the funds hit your bank account and you can utilise the funds without much bureaucracy or move the money to any country that you require."
She spoke when the airline published its financial results for the six months to June this year.
"In some countries, especially in Africa, there are restrictions around currency movement or shortage of currency, so you are not able to move your funds freely. You have to go through a lot of audits and submission of a number of documents for approval. Once this is approved, you still have to wait for approval currency allocation," she noted.
"This wait might be long, at times up to eight months. These are your funds in your accounts but you cannot move or utilise them unless you are just paying locally."
While the Sh520 million is a significant amount, it might not do much for the airline which reported a Sh14.4 billion net loss on Friday, hit by the impact of Covid-19. The carrier resumed local flights in July while international flights resumed on August 1, but does not expect recovery soon. Among the countries that have in the past been problematic when repatriating funds include Zimbabwe, Angola, Sudan, Mozambique and Nigeria.
The challenge is an industry problem with the International Air Transport Association calling on governments to abide by international pacts to enable airlines to repatriate sales revenues.
The African Airlines Association also said it would push governments to allow airlines to access their funds.