Kenya Airways flies deeper into crisis with Sh14.4b loss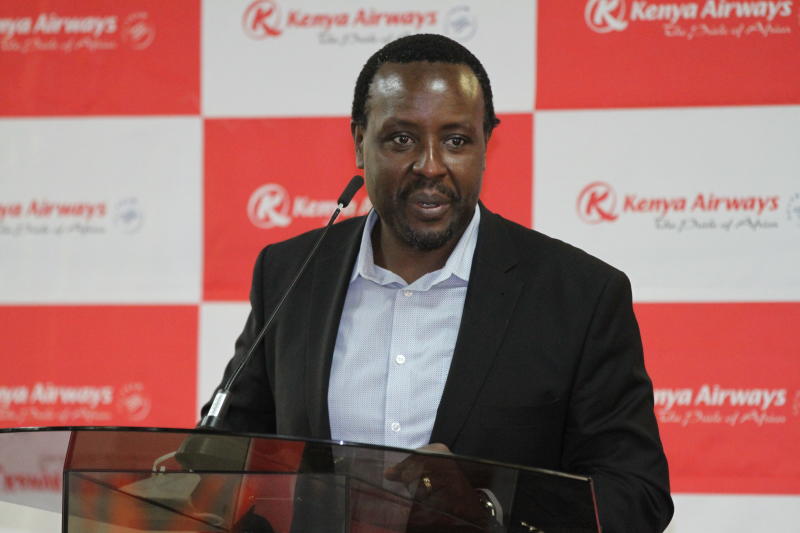 Kenya Airways (KQ) has sunk deeper into losses for the first half of this year, battered by a four-month hiatus on passenger travel and reduced volumes of cargo handled.
The national carrier reported a net loss of Sh14.4 billion in the six months to June, a 67 per cent decline from a loss of Sh8.5 billion recorded in a similar period last year.
The loss for the six-month period is more than the Sh12.99 billion loss the airline posted for the full year in 2019.
KQ reported turnover of Sh30.2 billion, a significant reduction from the Sh58.5 billion recorded in 2019. Over the period, cargo volumes went down by over 9,000 tonnes.
Cargo was the only revenue stream following the grounding of passenger flights, with the carrier converting some of its passenger planes to carry freight.
Passenger numbers declined from 2.4 million to 1.1 million, a 55.5 per cent reduction, in the half year ended June 30.
The number of passengers seen during the period were mostly over the first quarter. In the second quarter the numbers sank, with the only passenger flights being evacuation missions to and out of Kenya, which were few.
The tumultuous start to the year had necessitated analysts to project revenue losses of Sh50 billion for the carrier by the end of the year, but Chief Executive Allan Kilavuka now says the losses could hit Sh70 billion.
"We are in the middle of an unprecedented crisis. It is impossible to assess how much losses we stand to make," said Mr Kilavuka.
Tough year
The change in the projections was a result of continuing inhibitions on travel into and out of some countries, as well as conditions that visitors from such countries need to be taken into mandatory quarantine.
"It has been a tough year where we have faced challenges like never before. The situation continues to be difficult even as we gradually resume our operations, mainly due to the depressed demand for air travel, with recovery to 2019 levels expected to take between three to four years," the CEO said.
"The scale of this challenge requires substantial change so we are in a competitive and resilient position to address the impact of Covid-19, withstand any longer-term reductions in customer demand and any economic shocks or events that could affect the airline."
Costs on fuels and overheads (such as employee costs) went down as operations came to a near standstill, but decrease in capacity deployed, cargo volumes, cabin factor and passenger numbers offset the cost saving measures to sink the airline further into distress.
Kenya Airways had recorded a positive performance for the year ended December 2019, reporting a 12.4 per cent increase in revenue from Sh114 billion in 2018 to Sh128 billion, the airline's best performance yet.