Kenya wins fight against locusts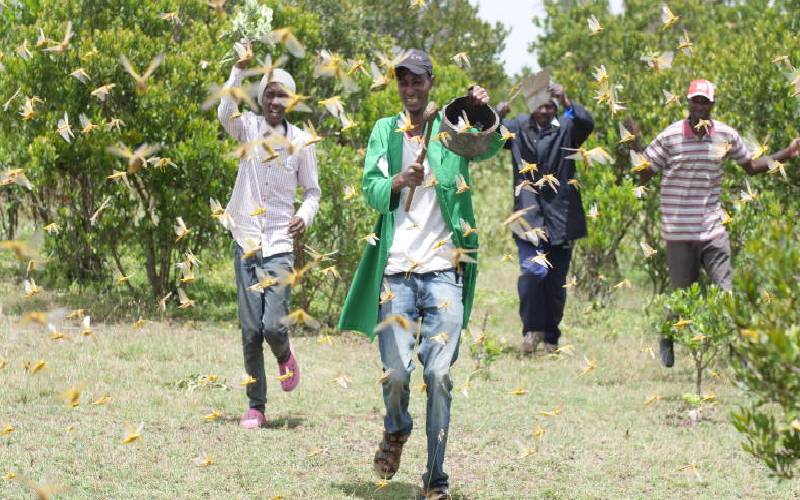 The desert locust infestation could be coming under control now. But it has left a trail of destruction, particularly worsening food insecurity in the parts of the country that were hard hit by the invasion.
According to the Food and Agriculture Organisation (FAO), Kenya has beaten the locust upsurge, at least for now. FAO, however, warns that more people in Kenya and the region will be food insecure due to the damage caused by the locusts on food, as well as pastures for livestock.
UN agency warns the region is still at risk of a new upsurge occurring later in the year, especially with new swarms coming from the Middle East.
FAO noted that significant progress has been made in fighting the desert locusts in the region, with Kenya standing out among the countries that have posted major milestones.
The number of counties infested by locusts has gone down to two, from 29 - more than half of the country, at the beginning of this year.
"In Kenya, only two of the 29 counties that were infested in February have desert locusts today," FAO said
"In the coming days, that will drop to one county, and within three weeks Kenya should be free of large-scale infestations altogether. That is a success, but the threat of possible re-infestation towards the end of the year will call for careful and continued surveillance," said FAO.
The organisation noted that having locusts under control was due to efforts by FAO, its partners and East African governments in building capacity to fight the locusts.
Over the last six months, different mechanisms including overhead spraying has killed about 500 billion locusts.
The desert locusts' invasion has resulted in major threat to food security across East Africa as well as parts of Asia and Middle East.
It has however been overshadowed Covid-19, with governments committing huge resources to contain its spread.
The desert locust invasion poses great threat to food security after ravaging farms and pastures across the country.
"We are still assessing the damage, but we have noticed abnormal poor livestock body condition in areas where desert locusts were present. That indicates that grazing was limited in these areas this season despite good rains. In Turkana, we saw sorghum crops with around 15 to 20 per cent damage or reduction of the yield," said FAO