EABL sales tank as it makes Sh7b profit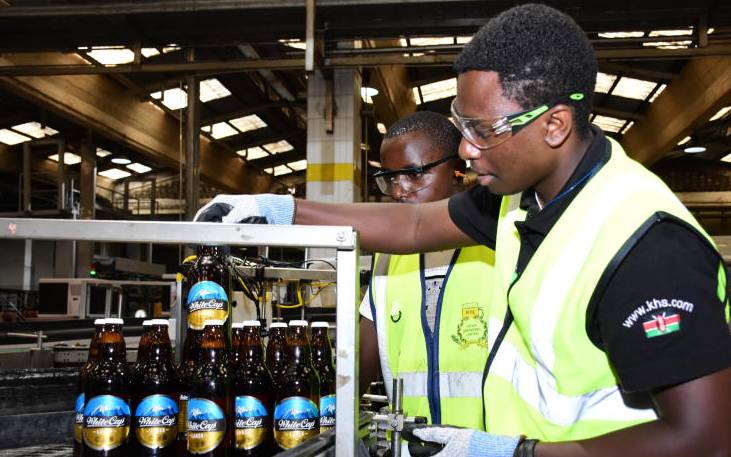 East African Breweries Ltd's (EABL) beer and spirits' sales in Kenya declined by 37 per cent in the second half of the financial year 2020.
The brewer, which enjoys 69 per cent market share, saw the reduction in consumption of its products offset a market gain of eight per cent sustained in the first half of the financial year, the net effect being a 14 per cent decline in the entire year.
Uganda, taking up EABL's market share of 16 per cent, also saw a decline of 21 per cent while Tanzania, whose restrictions were not as stringent had a 10 per cent gain in the second half of the year.
As a consequence, the brewer announced a profit of Sh7 billion for the year ended June 30, 2020, a drop from the profit of Sh11.5 billion it made the previous year.
The 39 per cent decline was attributed to reduced sales in on-trade channels as travel restrictions, outlet closures and social distancing requirements necessitated by Covid-19 impacted business negatively.
Bars and entertainment places were closed as the government battled the virus, which saw people's purchasing power take a hit, affecting sales of alcohol and related products. This saw a nine per cent decline in net sales in the year as first-half growth of 10 per cent was offset by a 29 per cent decline in the second half.
EABL Group Chief Executive Andrew Cowan said the brewer tightly managed working capital in the last quarter, reducing discretionary expenditure and reallocating resources such as advertising and promotion spend to new and emerging channels to serve consumers safely.
He said the interim dividend of Sh3 per share paid in April 2020 was the full and final dividend for the year. "During this unwelcome pandemic, our top priority has been to safeguard the health and well-being of our people and support our communities, while taking necessary action to protect our business," he noted.
"Across the markets, we have tracked changes in consumer behaviour and repurposed our execution plans in trade to continue serving our consumers." The brewer said it had partnered with logistics and e-commerce firms to survive Covid-19 scourge.
EABL said resource re-allocation and cost management resulted in a nine per cent reduction in selling and administration costs, and six per cent reduction in cost of sales, softening the overall impact on the business.
The brewer contributed Sh120 million to the Covid-19 Emergency Fund.