Bus operators likely to increase fare due to new rules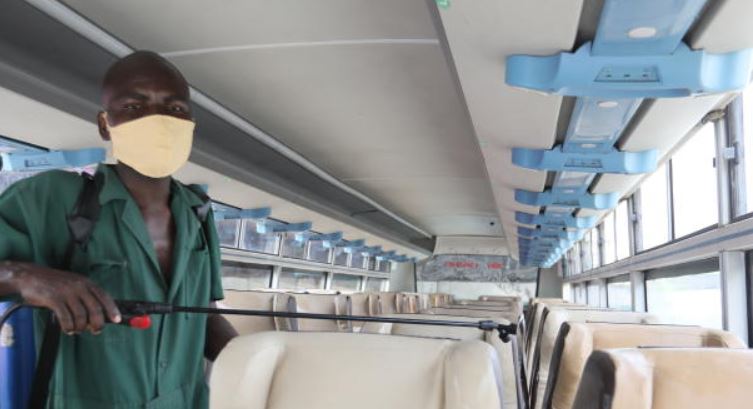 Long haul bus operators based in Mombasa city have welcomed the decision by the government to allow them back on the road but insist that they could be forced to hike fares.
They say the new rates will help cater for additional costs due to the new requirements by the government.
President Uhuru Kenyatta on Monday said as a requirement for the public service bus vehicles to operate, the owners will require mandatory certification from the ministry of health, in consultation with the ministry of transport.
"Conscious that movement of people is a catalyst for the spread of the disease, there shall be no movement of public transport vehicles into and out of the areas previously under the cessation of movement restrictions, without the public transport providers being compliant with all protocols developed by the ministry of health.
The Passenger Service Vehicles (PSV) operators who spoke to the Standard on Tuesday said they would resume movement soon but will have to pass the cost to passengers as many will be forced to operate below the normal capacity.
''Our main clientele remain the middle class and business people. We shall have to increase the fares to help us stay afloat as we operate under the new normal environment where buses are not allowed to carry the maximum capacity,'' Mr. Mohamed Ajaz Mirza, chairman of Kenya's oldest long-distance bus company, Coast Bus said on Tuesday.
At the firm's Changamwe main workshops, it was a beehive of activities as mechanics and company staff made last-minute checks on buses that have not been in operation for close to three months.
''While we thank the President for opening up the economy by allowing us to operate once again, we request that a general bail out on bus operators be effected since we have suffered loses due to COVID -19 pandemic just like all other sectors of the economy,'' Mirza said.
He said that they have to conform to strict Ministry of Health regulations that require among other buses to be fully fumigated, drivers and their support crew to be medically fit and free from Covid-19 among other costly requirements.
''We have sent a number of our bus crew to the Miritini Covid-19 testing centre for tests before we can assign them duties to travel,'' Mirza who was flanked by the firm's Operations Manager, Mr. Izhar Mirza said.
He said that since buses shall only be allowed on the road during day time, he pleaded with President Uhuru Kenyatta and Transport Cabinet Secretary, Mr James Macharia to allow an extra hour out of the start of the night curfew time for the long-distance bus drivers to operate.
''All our buses are fitted with speed governors and it will be impossible to reach some destinations in time with the speed restrictions before curfew time,'' he said.
The operator however did not give the new rates adding that they were still working on the new ticket prices which should be out before Thursday.
At the Mombasa Raha bus yard in Leisure village, Nyali constituency, workers were busy putting final touches to buses that were to be deployed to travel to Nairobi and Lamu respectively.
''Mombasa Raha crew have adhered to the new Health Ministry requirements. We shall be charging sh 2000 one way Mombasa- Nairobi and vice versa,'' Mr. Khamis Said, the Fleet manager said.
He said that they have opened their booking offices and are already selling tickets ahead of the start of operations.
''It has been long and tiresome wait. Our people remained without jobs since the government announced total lockdown in Mombasa and Nairobi to curb the spread of coronavirus,'' he added.
The Kenya Railways on Monday hinted at resuming Madaraka train services soon.
Kenya Railways Managing Director Philip Mainga said the Ministry of Transport in conjunction with SGR Operator, Africa Star Railway Operation Limited will be releasing the operation schedule in due course.
"We urge members of the public to remain patient as we put all the mechanisms in place to serve you better," he said however not revealing much on the effects of the new rules on the ticket price.