Airstrips in western Kenya get face-lift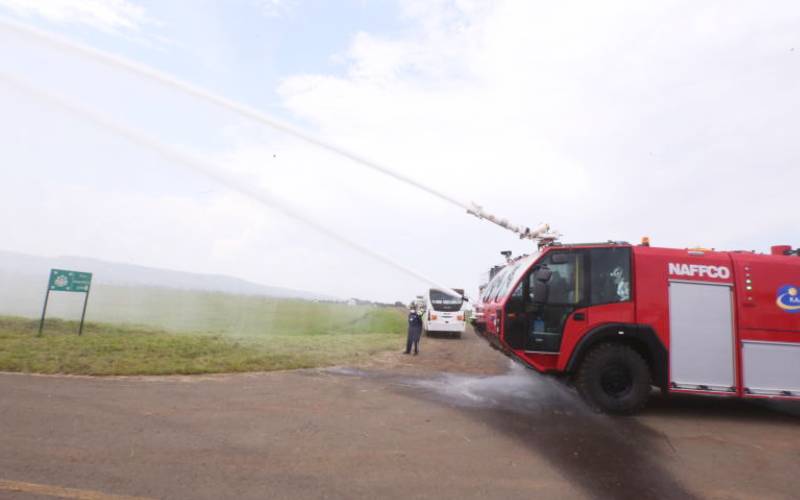 Airstrips are being revamped in Nyanza and Western to spur the economies of the regions.
According to Kenya Airports Authority (KAA) Western Region Manager Selina Gor, modernisation of Migori, Suneka and Kakamega airstrips will be a game changer in the quest to transform air travel and open regions to trade.
"We want to ensure that people can board planes almost next to their doorsteps and will also reduce their expenses," said Gor.
KAA has already began the process of modernising Migori Airstrip at a cost of Sh243 million after handing it over to a contractor about a week ago. The airport serves South Nyanza and the neighbouring Tanzania.
According to the authority, the modernisation is expected to be completed by June, next year.
According to KAA, expanding the airstrip will strengthen the western Kenya tourism circuit, and also boost trade with neighbouring Tanzania.
Cargo airlines
Expansion of Suneka Airstrip, which is also a few miles away from Migori, is also underway.
Leaders in Kisii have been pushing to have the airstrip rehabilitated to enable cargo and passenger airlines to begin plying the region.
In Trans Nzoia County, work is going on at the Kitale Airstrip that is being elevated to a fully-fledged airport.
The expansion works will cost Sh220 million, according to Devolution Cabinet Secretary Eugene Wamalwa.
A week ago, a contractor touched base at Kakamega Airstrip ready to give the facility a face-lift.
According to KAA, rehabilitation of the airstrip will gobble up Sh174.7 million.
Ms Gor said the contractor has 15 months to complete the project.
And plan to give the neglected Busia Airstrip a face-lift appear to have run into headwinds after nine people emerged to claim ownership of its land.
Governor Sospeter Ojaamong has identified alternative site for a new airstrip.
Other facilities earmarked for face-lift are Bungoma Airstrip and Matulo in Webuye. Smaller aircraft use the Matulo airstrip.