Kenya Railways target Sh370.4m yearly profit in Nairobi-Nanyuki refurbished line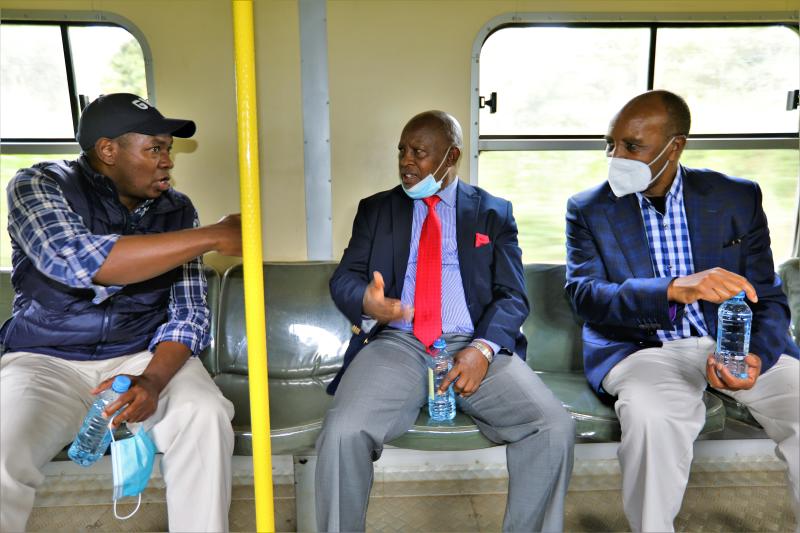 Kenya Railways Corporation is expecting to generate over Sh370.4 million revenue per year after the revival of Nairobi -Nanyuki MeterGauge railway line.
The corporation has finalised negotiations on proposed rates with the business community for the cargo and passenger trains with the bulk of the revenue coming from the commercial operations.
The rehabilitation of the 240 kilometre line cost the government Sh1.8 billion and official launch by President Uhuru Kenyatta was set any time.
Speaking during an engagement forum with businesses intending to use the railroad in Chaka, Kenya Railways head of business, commercial and operations James Siele said commercial trains will generate Sh365 million.
The event was hosted by Nyeri governor Mutahi Kahiga and attended by his counterparts Ndiritu Murithi (Laikipia) and Francis Kimemia (Nyandarua).
Petroleum products being the key cargo, KRC will be charging about Sh82,000 for a single 50 tonne of fuel tank with a tonne costing Sh1,640.
Vivo energy company which is the anchor client for commercial trains intend to transport 14 million litres of fuel per month from Nairobi to their depot in Nanyuki town.
The depot has a capacity of 11.5 million litres with the organisation's representatives indicating that ferrying via the railway will bridge the supply gap as only five million capacity is being utilised.
Further, investors ferrying livestock from Laikipia County will be paying Sh730 per tonne of cattle and Sh465 per tonne of small animals.
Other cargo such as fertilisers, cereals, hardware and farm products among other general cargo will be ferried to and from Nairobi at a cost of Sh1,400 per tonne.
Kenya railways management will publicise the rates after they have been approved and appended by the Transport Cabinet Secretary James Macharia.
Investors ferrying imports stocked in Nairobi will be paying Sh20,000 per TEU container from Nairobi to Nanyuki while a trip from Nairobi to Nanyuki will cost passengers Sh200 and Sh1,000 for a first-class coach.
"In the first year, we will be handling a total of 106,000 tonnes of fuel, 94,000 tonnes of conventional cargo and 24,000 livestock for imports category and export goods amounting to 50, 000 tonnes," said Siele.
Nyeri governor Mutahi Kahiga said the revival of the line will see the idling industrial plots around Kiganjo developed by investors in the container business.
"Kiganjo was sent to its deathbed when we lost the line. Many businesses closed down after the collapse of the line," said Kahiga.
Kiganjo Kenya Cooperative Creameries are also intending to expand business on value addition lines whereby the dairy products will be ferried via the line.