KCB Bank sets aside Sh2 billion to support MSMEs in Laikipia County
The County Government of Laikipia and KCB Bank Kenya signed a partnership agreement that saw the bank put aside Sh2 billion targeting to support 5,000 business entities in the Micro, Small and Medium Enterprises (MSMEs) within the county to help them weather the COVID-19 crisis.
Under the arrangement, KCB will provide affordable loan facilities to enterprises and cooperative societies whose businesses have been affected by the outbreak of the pandemic. In the arrangement, the County Government will pay part of the interest while business entities and cooperative societies pay the balance.
This fund targets existing MSMEs in Laikipia County where entrepreneurs will be financed according to their ability to pay based on their cash flows.
Laikipia county is home to 20,846 SMES as at a 2019 survey with more businesses opening up due to growing demand for various goods and services. The growth of businesses within the county is highly attributed to the favorable and enabling environment provided by the county government. The business establishments further create employment opportunities to the residents of the county.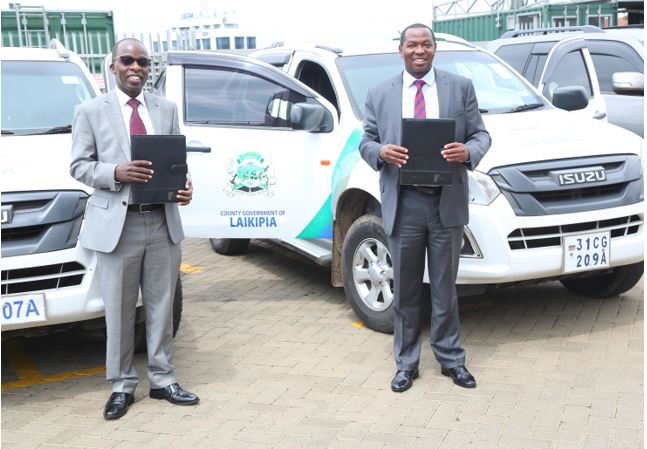 Sagak Enterprises is one of the businesses which has thrived in Laikipia county. The establishment was the brainchild of one Samuel Njogu. He started by assembling cars from his home backyard using locally available materials and old metals. He received great support from the Laikipia Innovation and Enterprise Development Program. This program was started by Governor Ndiritu Muriithi who took note of tuk tuks and developed a keen interest in them.
Through the innovation program, Njogu has been able to get certification of his BJ 50 tuk tuk model. This is a big win for him, as he is now able to move to mass production of his car model. The county government has also invested in Sagak to enable it acquire space, buy equipment's and establish a production line this will enable the company mass produce the four wheeler tuk tuks. The plant is currently servicing an order of 50 cars from various people across the country.
Laikipia Vision tailors is another success story. This is a group of tailors from various parts of the county that have joined together to form a group which undertakes sewing projects.
In March 2020 when the reality of covid-19 being in Kenya hit hard, and many of us reacted in fear, this group of tailors through their chairman Mr. Peter Kimani rose to be counted as heroes of the moment. Through the Laikipia Innovation and Enterprise Development Program, Kimani and a few of his group members were taken for a training on how to make masks. They in turn trained other members and together are now able to mass produce masks not only for Laikipia county but also for other counties.
Kimani says they received orders for 10,000 masks from Marsabit County which they were able to deliver within a week. They have also been supplying to wholesale traders in Isiolo, Karatina and Nyeri thereby creating employment indirectly to many within the county and beyond.
In Laikipia North, livestock markets are a major source of livelihood to many since, most residents are pastoralists. Investments in livestock markets by the county government translates to better sales for farmers as they are able to sell their livestock at competitive rates unlike when buyers source them from their farms.
These markets translate to employment opportunities directly to those officers who clean, collect revenue and the health public officers in-charge of them.
These are just but a few of SMES in Laikipia that have stood out and made a difference in the society. With the loan funding from KCB these entities will be in a position to expand more and increase the rate of employment to the people of Laikipia county hence general improvement of livelihood.
In his manifesto Governor Ndiritu Muriithi made a promise of creating 30,000 jobs. Through the Laikipia Innovation and Enterprise Development Program, this promise is achievable. The funding from KCB also pushes the achievement of this promise a mile high as the many businesses that were at the verge of collapse due to COVID-19 effect will have a new lease of life. It's a great step in jumpstarting the county economy which has been largely affected.
The County Government of Laikipia in collaboration with KCB will develop policies and structures that support the utilization and sustainability of the fund and also facilitate capacity building for entrepreneurs. In addition, the county will assist in getting markets for customers who are in agribusinesses and provide a team that will monitor the customers who have borrowed to cap loan diversion.