Reprieve for Norfolk workers as sack notice is reversed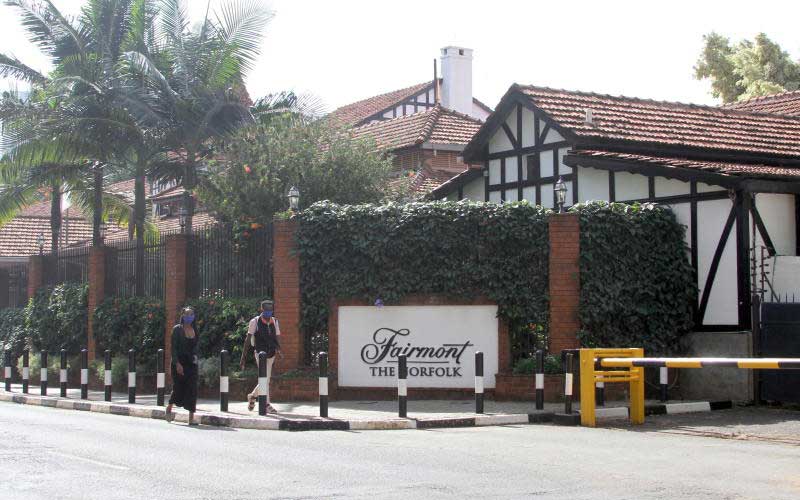 Employees at the Fairmont Norfolk can hope that their jobs are safe after management withheld a decision to fire them over the impact of Covid-19.
Yesterday, Fairmont Hotels and Resorts Country Manager Mehdi Morad said the memo that had informed them that they had been laid off has been withdrawn "until an agreement with relevant stakeholders is reached".
Mr Morad announced the hotels' change of heart following a meeting between its management and the Kenya Union of Domestic, Hotels, Educational Institutions and Hospital Workers (Kudhehia) on Wednesday.
"We would like to reiterate that the owners, Fairmont Hotels and Resorts and subsequently Accor Hotels are very committed towards the health, safety and well-being of their employees," Morad said.
"To this end, the management has withdrawn the said memo as we continue with consultative meetings with all stakeholders until an agreement is reached."
Kudhehia said it has held at least two meetings with Norfolk management. The meetings have revolved around a proposal by Kudhehia that the employees be paid at least 50 per cent of their salaries while on leave.
May salaries
"In the last meeting, the union requested the Country General Manager to engage Norfolk directors with regards to the May payments. He was to report back; he did not. Still there is no consensus on the way forward," Kudheiha said in statement.
The union added that it has pushed for dialogue on the redundancy issue in light of a Collective Bargaining Agreement (CBA) it signed with Norfolk, but Norfolk is yet to agree on holding talks.
"We are shocked that the procedures and provisions used by the management while carrying out the redundancy do not meet the bare minimum requirements provided in the CBA," Kudheiha said.
Fairmont is in a growing list of top hotels that have halted operations owing to the coronavirus pandemic that has hit their mainstay – tourism, conferences and events.
Last week, Serena Hotels sent its entire staff on unpaid leave starting this month as effects of Covid-19 pandemic continue to sink the hospitality industry.