Jubilee profit in slight dip to Sh4 billion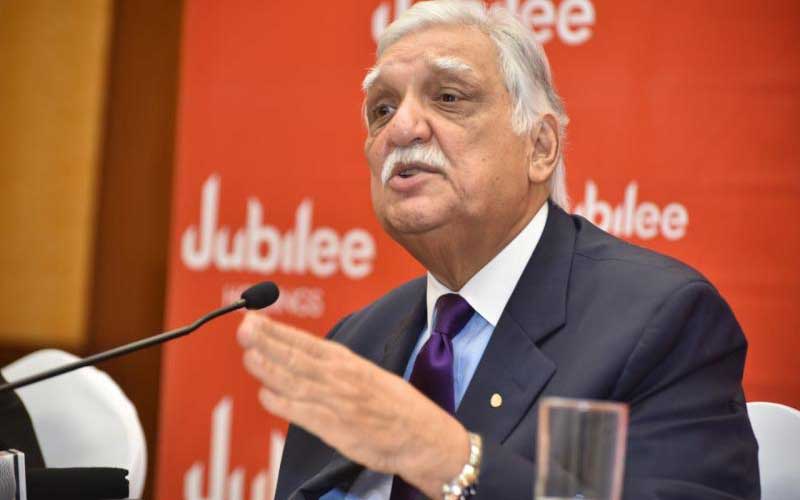 Regional insurer Jubilee Holdings has announced a marginal drop in net profit for 2019.
The firm said profit after tax dropped to Sh4.02 billion from Sh4.13 billion in 2018.
This was on the back of lower insurance results of Sh2.63 billion compared to Sh2.89 billion in 2018, and a lower share of profits from investments in associates.
Total gross written premiums and deposit administration contributions, however, grew 9.9 per cent during the period under review to Sh38.19 billion compared to Sh34.75 billion previously.
Total comprehensive income after tax, on the other hand, rose by 9.6 per cent to Sh3.90 billion from Sh3.56 billion in 2018.
The group's total assets increased by 14 per cent to Sh130.08 billion from Sh114.19 billion, while total shareholders' equity and reserves increased by 10.9 per cent from Sh25.47 billion to Sh28.25 billion.
Group Chairman Nizar Juma termed the results "solid" despite the marginal drop in profitability, saying they had come against a challenging operating environment.
"We are honoured by the faith our valued customers have bestowed upon us to enable us to contribute towards positively impacting their lives through our products and services," he said.
The firm's long-term business posted a growth of 13.6 per cent to Sh15.89 billion, which included individual life growth of 16.3 per cent and group life (19.4 per cent).
The medical business, on the other hand, posted growth of 8.9 per cent from Sh9.94 billion to Sh10.82 billion, with an underwriting profit of Sh721 million from all countries.
The general business grew by six per cent to Sh11.48 billion, albeit with an underwriting loss of Sh480 million.
The company will soon be split into three entities as the listed insurer moves to comply with the regulatory requirement to separate long-term and short-term businesses.