Monopoly of SGR freight derailing Coast economy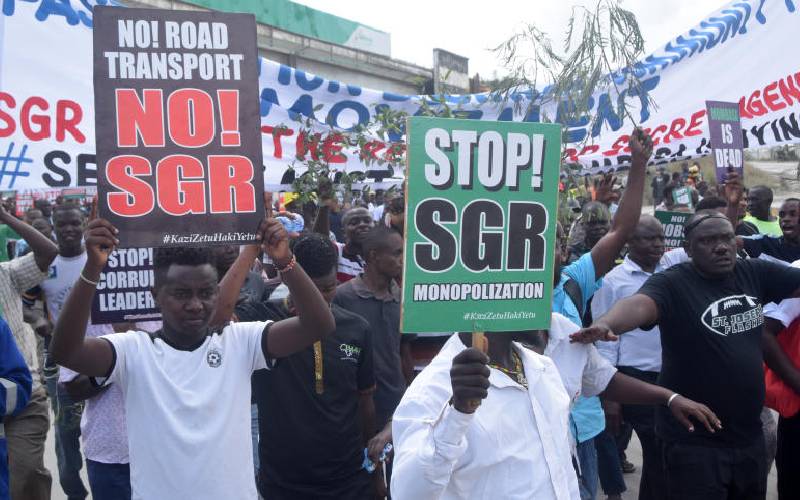 Three years ago, Fahmi Ahmed, a Mombasa businessman and proprietor of Silver Star Automobile Company, would be sitting pretty in his King'orani office reaping the fruits of his motor spares firm.
His firm relied on repairs of vehicles ferrying import goods from Mombasa port and employed dozens of workers as drivers, mechanics and managers for his thriving business.
The business in which he invested Sh20 million was intertwined with the transport and logistics sector at the port. It is now on the brink of collapse.
Instead of sitting in his office, yesterday he joined thousands of residents, drivers, investors in the logistics and transport sectors in Mombasa to protest the negative impact of the implementation of the Standard Gauge Railways SGR freight service.
"Some of my trucks are not on the road anymore because there is no money for maintenance. If the trend continues, I will close down before the end of this year. I am seeing poverty coming to some of us who depend on the port," said Ahmed, adding that he took a loan three years to plough into the business expecting huge and fast returns.
As he walked the dusty road between Kibarani and Changamwe where the protest was held, Ahmed recalled the port and Mombasa's vibrancy with nostalgia, saying firms like his relied on the movement of port cargo especially between Mombasa and Nairobi.
Now he fears he may not repay his loan and could be auctioned as the logistics sector either collapses or moves to the Inland Container Depots in Nairobi and Naivasha.
Fuel dealer Massin Hassan who also joined the protest, complained that before the SGR haulage of all containers started, he used to sell 20,000 litres per day but now he hardly sells 5 litres.
"I had four petrol stations in Mombasa where I used sell more than 20,000 litres of fuel but since this problem started, I hardly sell 5 litres in a day," said Hassan. He said in the last few months, he has laid off 10 workers because of the problem and will shut down the petrol stations soon if the policy is not reversed or interventions made.
Until two years ago, the claims by businesses were fringe and rare.
But as reality sinks in, these views have become mainstream and widespread as shown by a recent University of Nairobi School of Business report that showed warehouses and the entire logistics sector in Coast was collapsing owing to the lopsided policy implementation.
The report published two weeks ago, shows that Mombasa's economy will shrink by 16.1 per cent with 8,111 jobs lost if all cargo is evacuated by the Standard Gauge Railway (SGR) from the port to the interior.
According to the study, Mombasa has already lost Sh17.4 billion and 2,987 jobs equivalent to 8.4 per cent of its annual earnings since the implementation of government policies requiring mandatory transfer of most import cargo through the Madaraka SGR freight service to Nairobi in 2017.
It noted that that notwithstanding the positive importance of the impressive new railway described as "ambitious and (a) revolutionary endeavour in infrastructural development" with "first class" equipment, the Government policy imposing a monopoly of SGR transportation of all inland-bound import cargo was haphazard and counterproductive.
The demonstrators carrying placards castigating Kenya Ports Authority, Kenya Revenue Authority officials and a Cabinet Secretary, walked more than 10 kilometres songing anti-government songs.
As the demonstrations continued, the truck drivers hooted as a sign of solidarity while road construction workers also abandoned their works to cheer them on.
Local leaders including Mvita MP Abdulswamad Nassir and Benard Simiyu - the acting chairman of the First Action Community - joined the protest.
"I am against the decision of KPA and KRA to order for 100 per cent of transportation of containers through the rail," said Nassir.
Key sectors
He said the collapse of these key sectors has sparked a secondary negative effect on other smaller businesses such as boda boda transporters.
Long Distance Drivers and Allied Workers Union Secretary Nicholas Mbugua said the monopoly enjoyed by the SGR freight service is unfair to other businesses.
Muslims for Human Rights official Francis Auma claimed youth unemployment is on the rise as a result of the new policy. [Willis Oketch, Bernard Sanga and Patricak Beja]