Who came up with the idea of The Opener Exams? Everyone flunked it!
Who came up with the idea of The Opener Exams? Everyone flunked it!
It's crazy, but I still hold nostalgic memories of my back to school days.
So, am staring blankly at a starchy white paper, full of incomprehensible dots, figures and marks. I look around - lots of my colleagues seem to be staring at space. Ok, not space, space. Let's aim at the dusty beams holding up the building's galvanised roofing sheets. We are sitting for The Opener Exams, and fate has it that Chemistry has to be the first.
Talk of ill-timing, and this is it.
Just a day after opening, after weeks tasting end products in my grandpa's home distillery, am ill-prepared to deal with the technicalities of organic chemistry - alcohol - in class. The end product doesn't inspire lots of thought into its formation. Perhaps it does, for chemistry teachers with a sick sense of subliminal humor.
The formula alone is mind-boggling. Is it C2H6O, C2H5OH or CH3CH2OH?
From a near-epiphanic memory flash, you recall cramming something about one methyl (-CH3) group, one methylene (-CH2-) group and one hydroxyl (-OH) group. Oh, and it's a colorless, volatile and flammable liquid that's soluble in water. Impress this sadistic teacher with beautiful English, if nothing else.
Next! Oh, Dear Lord! The dreaded Mole Concept.
Forgive me, but it's hard to concentrate with 14,000 bob in my back pocket. I still have my school fees in my possession. I usually pay my own fees each term on reporting, but there's a set custom in this school - the administration sends us home on the first Friday for fees arrears. The plan is to enjoy the weekend in town with a few friends, and report back on the following Monday, with the fees. In full.
On the far corner of the class, Mutiso is furiously writing. This seems to be the only dude who's not going to flunk this paper. Though he's been always a bookworm, he doesn't have the canny feeling of a few thousand shilling notes burning a hole through his khaki pants. His folks pay his school fees through a Co-op Kwa Jirani agent near their home.
What wouldn't I give to share his desk?
I absently pat my back pocket, and quickly jerk my hand back. The teacher seems to be absently pacing the aisles in the classroom, but he's checking for self-help Mwakenya's. Wish I had one. Am patting the school fees in my back pocket. Legal tender has a mind of its own, sometimes wild.
A quick question - to self: what would I do with ten million bucks?
I would probably spend it on fast bikes - Kawasaki, perhaps, or a BMW-something. A gleaming black sports car, everything tinted. A Chevy Camaro should bring out the innate gangster in me. A flotilla of super speed boats. Then, I'd plunder the rest on real estate.
Oh, dear. Mole Concept.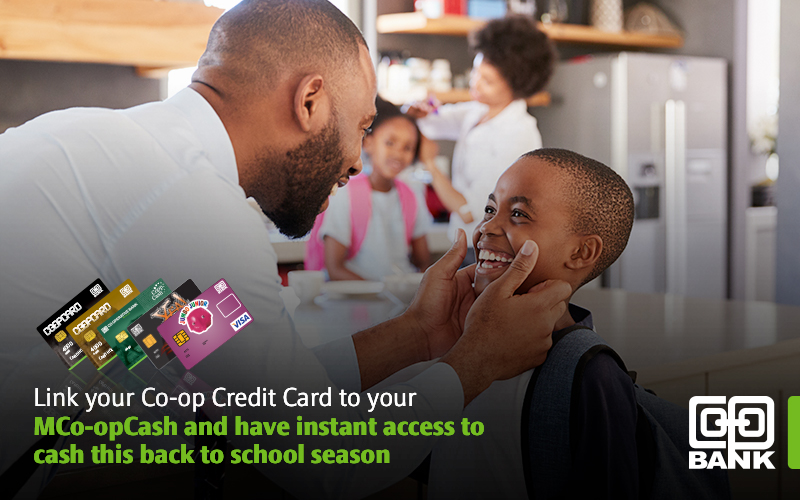 Dear parents, when a tight work schedule holds you, do not burden your kids with the responsibility of paying their own school fees. There are easier and safer methods.
Parents can easily access their accounts from any Co-op Kwa Jirani agent, and conveniently pay school fees. It is also very easy for Co-op bank customers with MCoop Cash app, as they are already registered to PesaLink. For business, you can pay for new supplies instantly and at low costs through PesaLink.
#BackToSchoolWithCoop #EaseTheBurden