One year later, SBM Bank says it's ready to scale up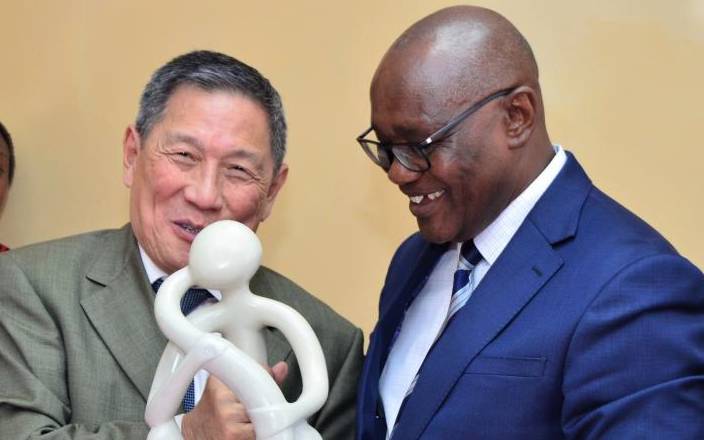 SBM Bank Chairman Kee Chong Li Kwong Wing has called on African financial institutions to support farmers and partner with county governments and the private sector to grow economies.
Mr Kee Chong said when they acquired the assets of Chase Bank, Kenya was in financial and political difficulties, but SBM was courageous enough to put resources into a failed institution.
Speaking in Kisii on Friday in a meeting with area Governor James Ongwae, Kee Chong said SBM will partner with locals to train rural communities to improve on cottage industries and uplift their skills.
"There is a serious need to modernise farming and reduce the cost of production. Financial institutions and in particular banks should help revamp the existing factories," he said.
"To achieve this, African countries need to attract foreign investors and tap into talents of the youth, who are zealous to learn from experienced individuals."
He said there is an urgent need to turnaround the sugar industry in order to produce bagasse in large scale.
Small farming holding structures, according to Kee Chong, are key in securing farmers' crops and ensure the activities are sustainable. "We can re-engineer the way our industries have been working and grow the country's GDP," he said.
"When the Chinese people are sent to Africa they are always told to work for 15 hours a day. Population dynamics have changed and we can work in shifts with a basic mission: empower people."
Kee Chong said a year ago he was worried on how he could grow the bank in the country but he eventually took the risk to buy the struggling outfit.
Fully committed
"We are reaping because we had faith, Africa remains a business hub and I had programmed my thoughts to come to Kenya. In my culture, we eat dragons and snakes and this makes me a courageous man to invest wherever there are resources and business opportunities."
With the recent financial issues in the business world, Kee Chong said African banks should remain fully committed on the development of the African countries by supporting visionary leaders.
"We have the will and resources to lend to enterprises. We will reciprocate even in more ways and even raise money through our stock market," he added.
Governor Ongwae asked SBM to customise their policies and support small scale farmers and invest in the health sector.
"The SBM team is committed to offering support in the areas of manufacturing, cottage industry and construction. The county government is keen to positively collaborate with SBM to boost development while engaging more partners to help improve public service delivery," Ongwae.