Njoro maize farmers bear losses as disease destroys maize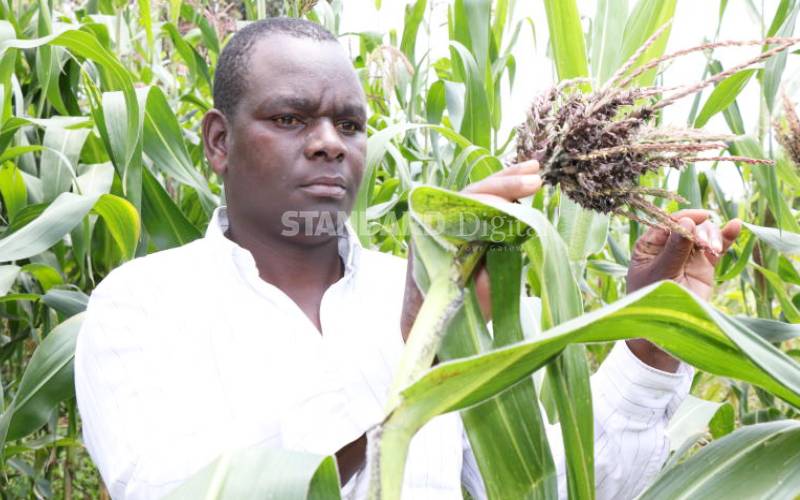 Farmers in Njoro sub-county are facing a poor harvest after a fungal disease attacked their maize crop.
Nearly 100 farmers from Gacuhi village alone have reported that their maize has been destroyed by head smut ?— a disease that attacks ears and tassels of a maize plant, replacing them with thick walled spores filled with soot.
The spores inhibit development of grain. The farmers had grown the maize on an average of two acres of land.
The disease is caused by the fungus Sphacelotheca reiliana.
Joel Chege, one of the farmers interviewed by The Standard, said he noticed the disease two weeks ago.
"We started noticing a few affected plants two weeks ago. Today, nearly all the maize in Gacuhi village have been attacked by the disease," said Mr Chege.
"The ears and tassels have been destroyed. There is no hope for a good harvest."
Substandard seed
A majority of the farmers grow maize which does not need high amounts of rainfall unlike other crops. They accused seed producers of selling them substandard seeds which are prone to fungal attacks.
Njoro is one of the areas that was hit by a prolonged dry spell between December last year and May this year.
Beth Wairimu, another farmer, said after the rains came she had hoped for a good harvest, but the disease has dashed those hopes.
The farmers called on the Ministry of Agriculture and the Kenya Plant Health Inspectorate Service (Kephis) to intervene.
Nakuru County Executive Committee Member for Agriculture Immaculate Maina said her docket was carrying out tests on some maize samples.
"A team of experts has visited the farms. We are taking this matter seriously since we want our county to be food secure," said Dr Maina.