Roadside emergency centres set up along Nakuru highway blackspots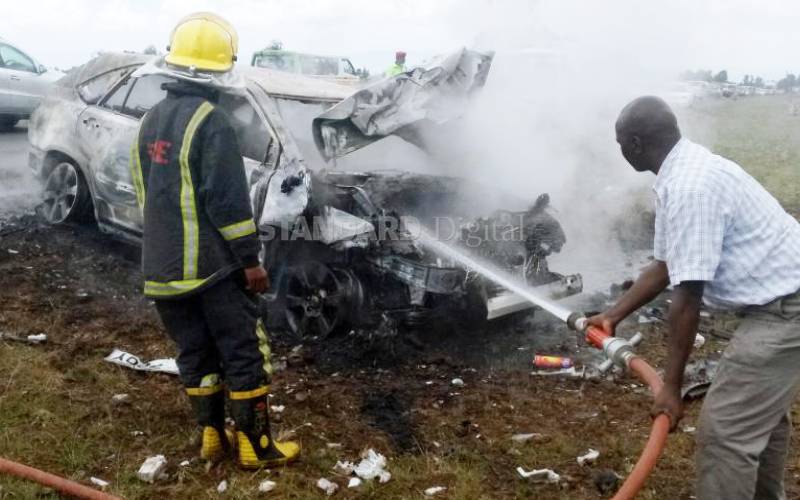 A Nairobi-based non-governmental organisation (NGO) is working to establish roadside emergency response centres in black spots along the Nairobi-Nakuru-Eldoret highway to assist accident victims.
Nurse in Hand Emergency Response chief executive Yarsin Khamas said the Sh60 million initiative is aimed at providing rapid response to accident victims along the busy highway located on the Northern Corridor.
Out of the allocation, Sh27 million will be used to buy motorcycles equipped with emergency medical response kits while Sh33 million will be used to build and equip care centres, and to employ paramedics.
"The roadside centres are aimed at providing services to accident victims in black spot areas. We are guided by previous statistics that state that a number of people die because of delayed access to quality services," said Dr Yarsin.
Five emergency centres have already been established along the busy highway in Kinungi, Delamare, Kikopey, Mbaruk and Sachang'wan.
Five motorcycles have been bought at a cost of Sh900,000 each. They will be operated by trained paramedics. "They are standard emergency response motorcycles installed with a first-aid kit, pannier boxes and a radio system for communication," Yarsin said.
Emergency response command centres in the county have been established at various hospitals in Molo, Gilgil, Naivasha and the Rift Valley Provincial General Hospital.
The emergency response system uses a mobile device application code where members of the public can key in data in case of an accident. The system is activated in command centres within 40 seconds leading to dispatch of paramedics who attend to the victims as they wait for referral services.
"Paramedics located along the highway shall get to the scene of accident, stabilise the injured and wait for ambulances," Yarsin said, adding that each emergency centre will be manned by eight trained paramedics.
Pioneer county
Yarsin said Nakuru was selected as a pioneer county to establish the response centres because it reported the second-highest number of road accidents after Nairobi.
Some of the black spots on the highway are at Kinungi, Kikopey, Salgaa, Migaa and Sachang'wan.
Other counties located along the Northern Corridor with a high number of road accidents include Mombasa, Makueni, Machakos, Nairobi, Kiambu, Nyandarua, Kericho, Uasin Gishu, Kakamega, Bungoma, Kisumu and Busia.
The doctor said 18 per cent of the country's road facilities occurred along the Northern Corridor between Mombasa to Malaba.
Yarsin said they had identified four matatu saccos plying the Nairobi-Eldoret route whose drivers would be trained on how to send alerts to the emergency system to report accidents along the highway.
The doctor regretted that the Government had not placed more emphasis on emergency response, instead leaving the task to humanitarian organisations like the Kenya Red Cross Society and St John's Ambulance.
"People involved in accidents can be saved if we have quick response. This is why the Government should come up with response measures and train more paramedics to offer quality services," he said.