Sony Sugar risks shutdown after five years without repairs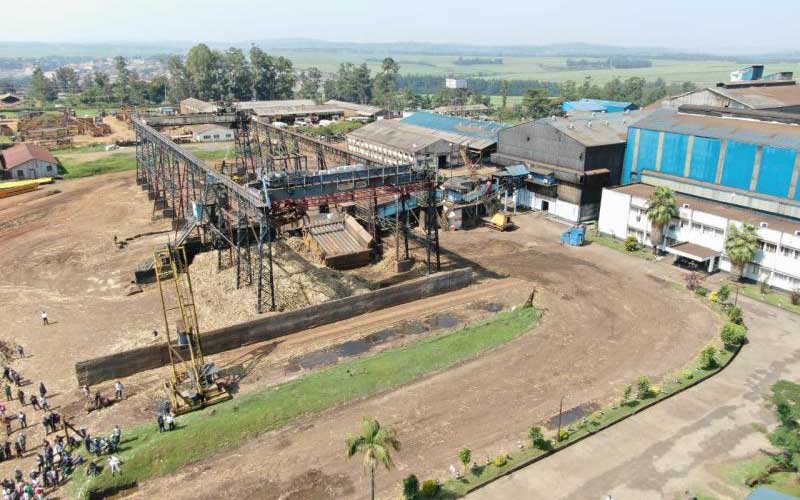 Failure to carry out annual maintenance for the last five years has been blamed for Sony Sugar Company's current woes.
Insiders say the Awendo-based sugar miller is now paying the price for skipping the annual exercise for five straight years, leaving its machines in a state of near-disrepair.
Millers routinely close down their operations for as long as three months to allow maintenance of their ageing equipment which is characteristic with most of the State-owned firms.
The miller has also had to contend with the cane poaching menace, especially from privately-owned firms and a ballooning debt to farmers.
Sony sugar has as a result seen its output greatly curtailed and is now milling between 1,000 tonnes and 1,500 tonnes daily, way below its installed capacity of of 3,000 tonnes.
The firm's Chairman Owino Likowa admitted lack of routine maintenance had worsened the miller's woes, with the last one having been carried out in 2014.
''Today, most of the machinery used in Sony Sugar crushing mill is over 30 years old. It is obsolete and needs rehabilitation,'' said Mr Likowa.
The factory has also not been helped by the fact that it still operates a steel mill while new competitors in the market such as privately-owned Sukari Industries runs an electric one, meaning they run more efficiently thus cutting production costs.
''For instance, in 10 tonnes of cane milled, the conversion of cane to sugar is very low because the machine breaks down often, and in the process we lose six tonnes,'' said Edward Odhiambo, an accountant.
He said they are currently in the process of sourcing for money from banks and the county government to carry out the much-needed maintenance.
Mr Odhiambo said the constant breakdowns have become a drain on the miller as they force it to close for close for several hours or days at a time to carry out mini repairs.
This means that when they resume, the huge amounts of sugar that were under processing are lost during fermentation and extraction as they end up producing more molasses than sucrose.
''If we can fix the obsolete parts of the crushing machine, then the factory would be up and running more efficiently, and we would be back on the path of profit-making,'' said another official.
He said if the factory were to operate optimally, it could do up 3,500 tonnes of cane per day.

The current problem, however, is that the Government - which owns 98 per cent of the miller - has been reluctant to release money for annual maintenance.
This is after the management allegedly diverted the initial Sh335 million it was given by the Commodity Trust Fund to offset part of farmers' dues.
Board chairman Mr Likowa said they need about Sh400 million to carry out the maintenance, which would put the miller back on a strong financial footing.
''This would go a long way in making us stable,'' he said.
Acting Managing Director James Oluoch said negotiations are ongoing with various banks as well as the country government to secure funding for the exercise.
Sony Sugar currently owes cane farmers Sh400 million for deliveries made up to November last year.
Interestingly, going by its financial audit analysis, if it carried out repairs on its milling plant, it would rake in over Sh400 million monthly.
Besides addressing the plant's problem, the miller has also stepped up introduction of a new high-yielding, early-maturing cane variety as it looks to turn around its fortunes.
Senior Agriculture Manager Apollo Hongo said the new variety also has high sucrose content.
''We are also trying to control diseases and pests which are harmful for sugarcane,'' said Mr Hongo.
He is also optimistic that production costs will also be contained through proper utilisation of by-products once the factory regains its optimal crushing capacity.
"For example, bagasse can be used for manufacturing paper pulp, insulating board, plastic, carbon cortex, among others," said Mr Hongo.