How a kilo of worms transformed my farm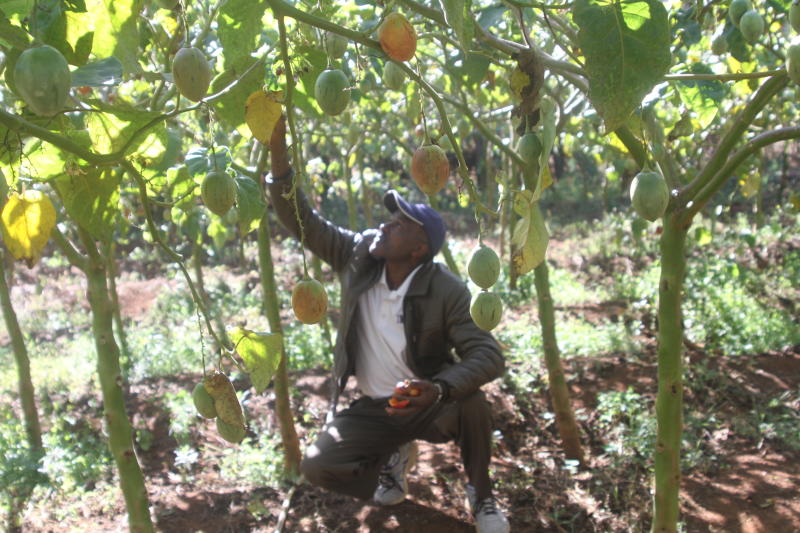 If John Mureithi was to write his farming story, its title would read 'How a kilogramme of worms turned me into a green thumb'.
A bustling orchard and countless tree nurseries with over 70 species of endangered indigenous trees completes his farm in Ndaragwa, Nyandarua County.
In the rather silent Mwangaza village located deep in Wiyumiririe on the slopes of Abadare Ranges, the calm atmosphere is complemented by the bustling greenery in Mureithis' farm. His compound, looks like a mini-forest with fruits towering splendidly from trees creating magnificent canopies.
Eight years ago, Mureithi was gifted with a kilo of red worms, the best gift he says he has ever received in his life. His friend further explained to him what he needed to do with the worms and without wasting time, he tried his hand in vermiculture, a process of garden composting using worms.
Overtime, all organic material naturally goes through decomposition. Most growers use various types of worms such as earthworms, white worms, and red wigglers to compost.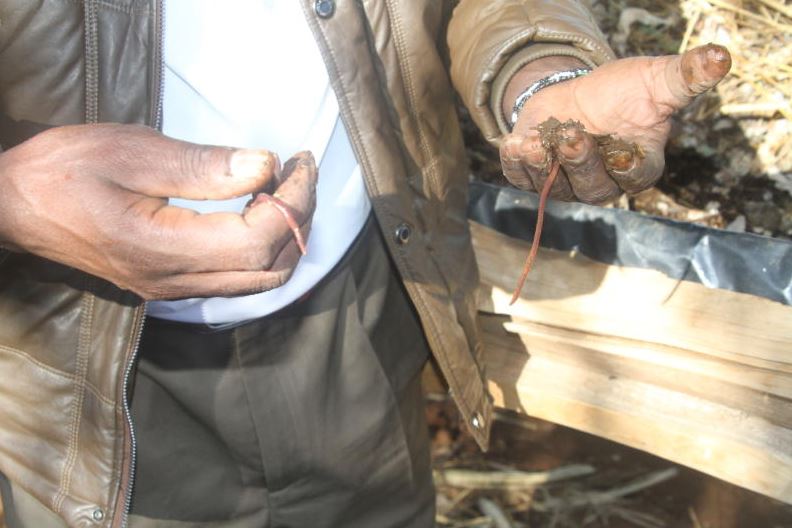 The worms are put in a structure known as the wormery, a simple, clean and efficient structure where one can turn ordinary organic kitchen waste into nutrient rich liquid that can be diluted and sprayed on crops.
"It is the best thing that ever happened to me. I no longer buy agro-chemicals, I do not buy manure, and I directly get the supply from my worms, quantities enough to cater for crops in my entire one-acre farm," Mureithi says.
The 46-year-old farmer ditched maize and beans for tree farming which he had done for almost 15 years.
"I used to farm maize and beans but I went through a lot of pain. I had several farms in different parts of the country but I gave up. I decided to venture into fruit and indigenous trees farming which is way more profitable than maize and beans," he adds.
Mureithi constructed a wormery in his kitchen garden, a simple structure with a single iron-roofing complete with a rack hosting the worms elevated off the ground.
A little clay soil cements the rack where the worms are supplied with daily nutrients comprising kitchen waste. A little grass covers the entire rack to aerate and keep off birds while a narrow tube is connected to tap the juice from the wormery.
After putting up the wormery, Mureithi also installed a few bee hives in his farm.
"Going organic was a plus for me as bees are often sensitive to chemicals, I knew my farm would be a good place for them," he adds.
In his farm, Mureithi breeds over 70 species of indigenous trees which he sells to locals, private conservancies and also the Kenya Wildlife service.
"The most-sought-after indigenous trees include camphor, red cedar, sandal wood, oak tree, greenheart among many other species, most of these trees are sought because of their medicinal value. I also wanted to demonstrate that tree planting can be both economical and lucrative," he says.
In the tree nurseries are over 50 herbs mostly bought by hotels. On half an acre, Mureithi farms tree tomatoes which remain his leading income earner.
Every fruit tree, he says produces one to three kilos of fruits every two weeks and sells a kilo for Sh100. A single tree tomato tree, he says, can produce up to 3,000 fruits in five years and an acre can have between 1,600 to 2,000 plants depending on the spacing. Once in a while, Mureithi hosts farmers for lessons in his farm.