Hoteliers, environmentalists clash with dredger off Diani coast over sand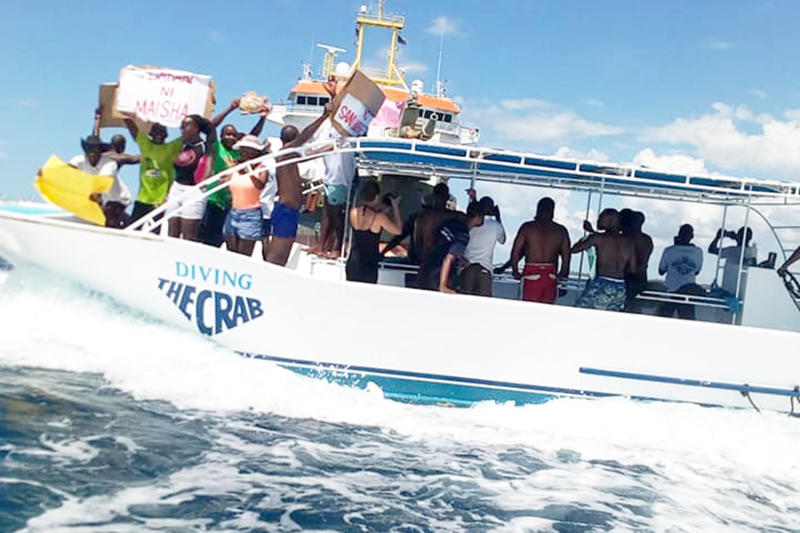 Opposition to beach sand harvesting off Diani Beach in Kwale County went a notch higher over the weekend after protestors used powerful outboard engine boats to block a contracted dredger from scooping sand from under water.
It was a scene reminiscent of protests by Greenpeace activists known to block huge vessels that carry out whaling activities off the Coast of Japan sea.
In the Diani incident, hoteliers and marine experts converged at the historic Kongo Mosque for a protest march before they headed to the sea in different boats to block the dredger vessel, Mv Whillem Van Oranje.
Hoteliers have joined in calls to oppose the harvesting of sand from the ocean bed for use in the construction of a Sh40 billion Kipevu Oil Terminal at the Port of Mombasa.
''Let it be known that the move is an illegality in the first place. Diani beach is likely to lose its allure of a clean white sandy beach once sand is scooped for the Port upgrade works. Let them look elsewhere,'' Kenya Association of Hotelkeepers and Caterers (Kahc) Coast branch executive officer, Mr Sam Ikwaye said.
Diani beach is home to world acclaimed white sandy beach and is dotted with star rated resorts and hotels like the five star Diani Reef Beach Resort and Spa, Jacaranda Indian Ocean Beach Resort, Baobab Beach Hotel, The Sands at Nomads, Leopard Beach Resort and Spa, Swahili Beach and the Sands at Chale among others.
Apart from hoteliers and marine environmentalists leading the onslaught to oppose the sand harvesting being done on an industrial-scale mining venture, the Kwale County Government has come out to state that it is not aware of the sand harvesting and has not authorised it.
According to Kwale County Executive for Land and Environment, Ms. Saum Beja, they were not even aware of the activity that has been vehemently opposed by many due to its socio-economic and environmental effects.
Beja claimed they were in the dark as far as the matter was concerned because either KPA or the National Environment Management Authority (NEMA) had not consulted them.
"We have no clue of what is happening because neither KPA nor NEMA has sent us notification in regards to the matter," she said.
She added that the county government was also against the sea sand harvesting and had not authorised it. This comes amidst a barrage of protests by residents and other stakeholders among them fishermen, tour operators, hoteliers and beach operators.
Last week, more than 200 fishermen and fish vendors from Tiwi in Matuga Sub-County protested over the sand harvesting, saying it will damage fish breeding grounds hence push them out of business.
Beja said that they oppose activities by KPA in the region because it did not follow the correct procedures such as conducting the social and environmental impact assessment.
"The assessment was done at Kipevu and Port Reitz in Mombasa County yet these are not the areas the sand is being extracted from. There was also no consultation with stakeholders many of who rely on the sea for their livelihoods," she said, adding that the harvesting is also immensely affecting aquatic life.
According to her, the county had already written a letter to KPA expressing its displeasure over the issue which it is yet to be responded to. She, however, said the county would work with other stakeholders in resolving the matter even as she challenged NEMA to ensure a proper environmental impact assessment is carried out in the area.
Beja also said that the county was never involved in the controversial compensation of local fishermen who were allegedly paid Sh16 million by KPA during the construction of phase one of the Kipevu terminal.
KPA came under heavy criticism during its first meeting with local stakeholders who accused it of engaging in sea sand harvesting in the county to expand its operations without proper consultations as required by environmental laws.