Coffee farmers face crop failure due to drought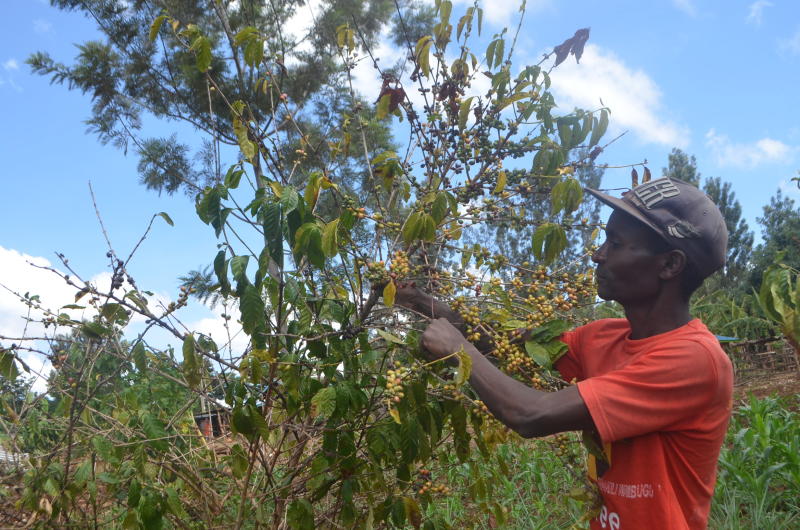 An agricultural crop scientist has warned of massive coffee failure this season due to the prevailing drought across the country.
Dr Charles Waturu said rain that fell on a single day three weeks ago forced coffee trees to flower only to fade way.
"After the coffee flowered, the rains should have, under normal circumstance, continued through April and May but this abrupt disappearance triggered some berry formation to abort," the expert said.
Waturu said the drought caused the trees to experience water stress which led to shedding off of premature berries.
"Since the rains are yet to come, even young berries that might have survived might as well end having premature formation whose value and quality will be poor due to lack of rainfall," he noted.
Waturu, who is a lead crop researcher at the Thika-based Kenya Agricultural and Livestock Research Organisation (Kalro), said production of coffee within Mt Kenya region will be at its lowest ever.
In Kirinyaga County, there are two zones which produce the cash crop, but have since been badly hit by the drought.
The lower zone where picking season kicked off this month has coffee trees which have produced berries which cannot ripen due to the harsh weather condition.
At Koroma village, within Kirinyaga Central sub-county, Eliud Kinyua whose crop has started drying up said he is now in a state of hopelessness.
"By this time every year, Gatuto Coffee Factory where I deliver my crop is normally a beehive of activities but go there now and you only find a deserted premises," Kinyua said.
Production of the crop within the lower zone is normally average while the berries are also of low quantity and quality.
But on the upper zone of the county where flowering season ended three weeks ago, farmers are a disappointed lot since this is where the berry formation aborted following the prolonged drought.
The county produces an average of 40 million kilogrammes of cherry per year, but this time round the farmers might not even realise 10 million kilogrammes, according to Waturu.