Skydiving suspended in Diani after Zambian dies in parachute accident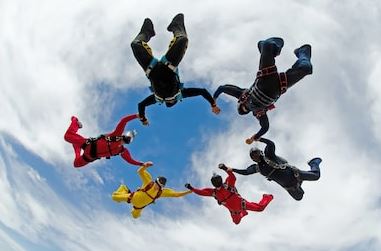 The Diani skydiving expeditions in Ukunda town Kwale County have been suspended following an accident in which a Zambian paratrooper was killed in an accident last month.
The Coast regional security committee which announced the suspension on Tuesday claims that skydiving operations in the area are being conducted illegally amid reports that the British proprietor, a former officer in Britain's military might be deported over these activities.
Last month a diplomatic row erupted between Kenya and Zambia when 14 Zambians entered Kenya on a tourist visa but ended up engaging in skydiving over Diani.
One of them, David Pumulo, a warrant officer died after falling from the sky after his parachute tangled with another paratrooper's parachute.
Now Kenyan officials claim that apart from the Zambians entering Kenya illegally, the British was operating a skydiving business without a valid licence.
Reports indicate the Zambians were members of Zambia's airforce but Coast Regional commissioner John Elungata declined to confirm claims only saying they entered Kenya on tourist visas and one of them died in a skydiving operation.
"All skydiving expedition has been suspended over security challenges as we await further directions from the national government. He had no license to practice skydiving at all. When we pressed him he alleged to have a verbal agreement with legal authorities," Elungata told the standard in an exclusive interview.
He alleged that following the accident, the Zambians were handed to the department of defence and deported amid questions of why the foreigners hid their identity and intentions from Kenya's military and foreign affairs.
"They were to write a formal letter to the host, Kenya through foreign affairs in conjunction with Department of defence (DOD) of their intended travel, how many are they and the purpose of travel," a high security source told The Standard regarding the accident.
According to security sources, the accident occurred when two paratroopers' tangled at 12,000 feet above sea level over Diani.
"They were two officers in a skydiving expedition. Their parachutes entangled shortly after they had jumped from the aeroplane. They tried their best to separate from each other. They succeeded but Pumulo's parachute failed to open and he plummeted to the ground at high speed," a source aware of the probe told the standard.
He was pronounced dead on arrival at Diani hospital. His skull was crashed and he was bleeding from all his orifices. The corpse was, secretly, taken to a hospital mortuary in Mombasa.
Now, police allege the British man has told investigators that the Zambians had planned the expedition since last December. The British man, allegedly, said he had no knowledge the Zambians were soldiers.
Kenya's investigators now are investigating whether the Zambians were on a spying mission or if their mission in Diani was sanctioned by their government.
It happened at around 1300 hrs on the third day of their stay in the hotel.
He was rushed to Diani hospital in life-threatening condition. He was pronounced dead on arrival to Diani hospital.