Equity's profit rises 5pc on State lending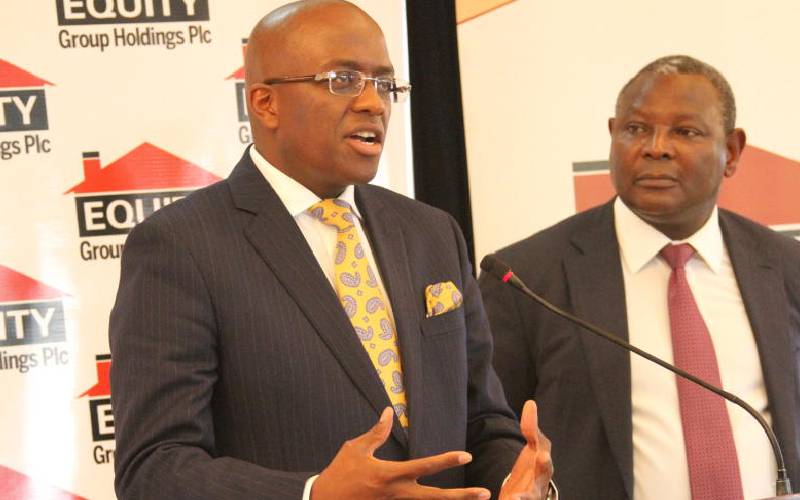 Increased lending to the Government has helped Equity Bank book a Sh19.8 billion net profit for the year ended December 2018.
This was a five per cent jump from Sh18.9 billion posted last year.
The bank, which made its mark through credit to small borrowers, saw its customer loans increase from Sh279 billion to Sh297 billion.
However, investment in Government debt jumped from Sh128 billion to Sh160.9 billion, a 26 per cent increase.
Equity Bank Group Chief Executive James Mwangi also sighted a silver lining in the increase of deposits from Sh373 billion to Sh422 billion, terming it a vote of confidence in Kenya's second-largest bank by assets.
"We select borrowers but depositors select us and our impressive deposit growth is a vote of confidence from the market," he said.
Extra deposits, however, came with additional costs as interest expense on customer deposits rose from Sh8 billion to Sh9.4 billion.
Equity Bank profit was also weighed down by higher provisioning on bad loans as a result of changes in accounting standards from IAS 39 to IFRS 9.
The new standards use historical research and market knowledge to predict the probability of default and assign risk against future potential loss.
"This time we do not pass it through profit and loss as shareholders failed to recognise and get hit against retained earnings. On January 1, 2019, carrying a loan book of about Sh300 billion we need to assess the inherent risk and likelihood for default during its lifespan and take a one-off provision," Mr Mwangi said.
"Equity took a conservative stance and made additional provisions of Sh3.7 billion during the year of what we perceived to be the risk over the period."
In the year under review, Equity set aside Sh3.7 billion in earnings as provisions for bad loans up from Sh3.4 billion in 2017.
Mwangi said the additional buffers gave the lender much needed cover over legacy bad debts to allow the bank to take off without worries in 2019.
It was marked by an increase in gross non-performing loans of Sh24 billion up from Sh17.9 billion.
Statutory loan reserves declined from Sh2.6 billion to Sh16 million.
The lender also faced a challenge making money away from interest with non-funded income declining from Sh27.5 billion to Sh25.8 billion on lower fees and commissions and foreign exchange trading.