Protest as Kisumu demolishes buildings on road reserves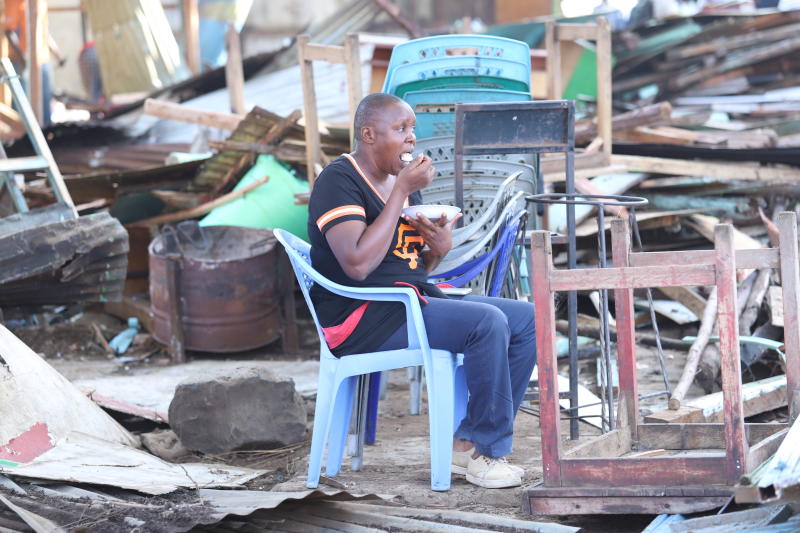 The county government has started demolishing structures erected on wayleaves and road reserves as it cleans up the city ahead of the international Africities meeting in 2021.
Yesterday morning, small-scale traders near Khetia Supermarket, bus park and social hall found their makeshift kiosks flattened.
Those who spoke to The Standard said they lost valuables worth hundreds of thousands.
Roy Odongo, Moses Omondi, Julius Livombolo, James Chacha and Judith Jabedo claimed they lost goods worth mor than Sh800,000.
Another resident who ran a popular food kiosk near the bus stop said he only salvaged chairs and fridges.
Cynthia Otieno said her fridges were damaged.
The traders sought help to get fresh capital to restart their businesses.
Nelson Owegi, chairman of internally displaced persons in Kisumu, said some of the affected traders were their members.
Quantify damages
"We want the authorities to investigate, quantify damages and consider compensating the affected traders," he said.
He said some of the traders invested between Sh50,000 and Sh150,000. He asked the county government to compensate them.
Kisumu City manager Dorice Ombara said they had notified the affected traders of the impeding demolition.
"Notices were served three months ago, and even extension of deadlines given, but some of them still defied the orders," She asserted.
Ms Ombara called for co-operation between the traders and the authorities, saying they were out to make Kisumu City "clean and habitable".
Ombara said cleaning and solid waste management would be done in various townships and informal settlements.