KEBS recertifies NSSF for meeting set standards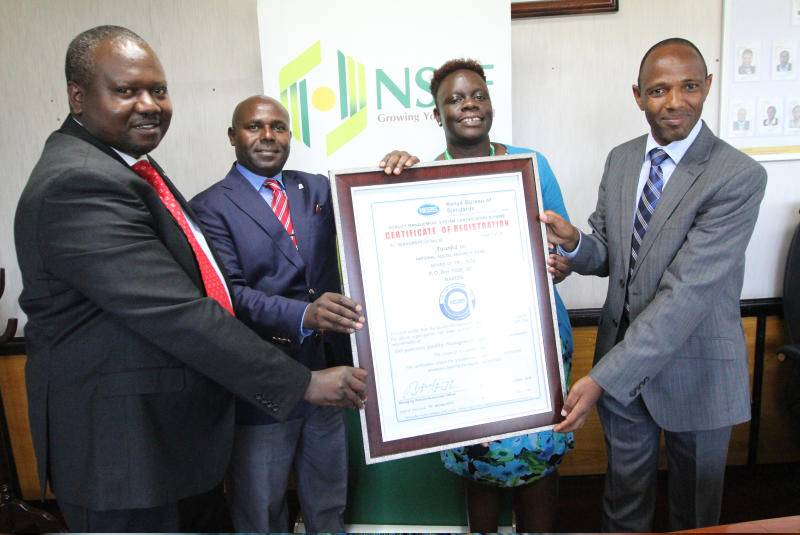 National Social Security Fund (NSSF), has been recertified by Kenya Bureau of Standards (KEBS), for meeting all the set requirements by the quality body.
NSSF's acting CEO, Dr. Anthony Omerikwa said that the fund was working persistently towards ensuring that it conforms to the expected standards in line with its service delivery.
"We tighten up the ICT body to transform the customer service as well as improve on our operations," he said.
According to the CEO, the fund has invested in automation of its services to help in offering customers access to information, increase performance as well as improve its decision making.
NSSF was the first public body to be certified by KEBS for ISO 9001:2015 in Kenya with the recertification aimed at improving the funds service delivery standards in regard to the current needs of its clients.
KEBS acting Managing Director, Benard Nguyo while handing over the new recertification, congratulated the firm for this achievement.
"Standards are reviewed to accommodate the changes that take place some of which include new technology trends and information systems among others aspects," added the MD.
The International Organization for Standardization ISO President, Eddie Njoroge said that the recertification was a great achievement for the fund urging other companies to follow suit.
Mr. Njoroge said that through recertification, the government will realize the Big Four Agenda.
NSSF's latest financial report indicates that the organisation's net assets grew by Sh23.8 billion from Sh5.27 billion in 2016 while that of its expenses rose up to Sh6.3billion in 2017 from Sh5.50billion in 2016.
Comparative growth increased to Sh172.86 billion as at June 2016 to Sh196.57 billion in the following year while net returns on investment grew from Sh1.027 billion in 2016 to Sh20.04 billion in 2017.
Member benefits payment increased from Sh3.12 billion in 2016 to Sh3.66 billion in 2017, whereas contributions rose from Sh12.87 billion in the year ending June 30, 2016 to Sh13.54 billion under the same period, 2017.
The growth trend has been said to be due to enhanced member contributions, existing economic environment and member confidence in the Fund.
NSSF has been over the years upgrading its systems to match with the changing needs of its customers by making decisions based on the current trends.
The fund has 60 branches countrywide in Marsabit, Lodwar and Wajir and in areas such as Vihiga, Tana River, Kapsowar, Kapenguria, Nyamira, Tharaka Nithi and Molo.