Kitui MCA, government officials in near blows over budget allocation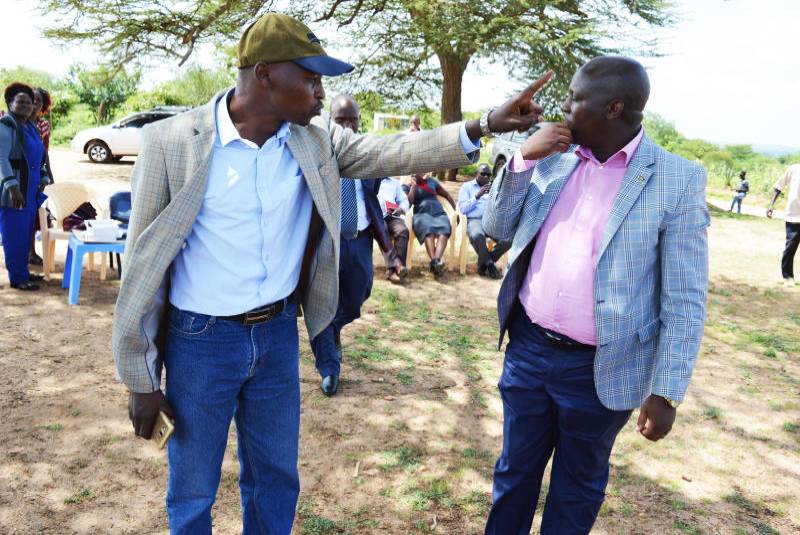 A bitter exchange of words between a Kitui MCA and a county Executive over the rejected supplementary budget Bill almost turned violent at a public meeting in Mwingi West constituency yesterday.
The clash between Kyome/Thaana MCA Alex Wambua and Sports and Culture Executive Koki Musau forced a sensitisation meeting on a mega water project in the constituency to end in disarray.
Trouble began when Mr Wambua (Wiper) interrupted a speech by Mr Musau alias Kuvasila and told him to stop spreading falsehoods on political tussle pitting Governor Charity Ngilu and the County Assembly over budgetary allocations.
The MCA shot up from his seat and warned the Executive that the assembly would not allow anyone to peddle lies against the legislative arm of the county government.
A fierce verbal exchange ensued and almost degenerated into a physical confrontation.
It took the intervention of Migwani Deputy Sub-County Administrator Danson Musee and ward administrator Esther Ngeta to cool the tempers and separated the two.
Earlier, Musau had urged the crowd to support Ngilu's five-pillar development agenda aimed at fighting poverty and shaping the county's destiny.
"I am here to bring you the governor's message of soldiering on with her agenda to economically empower the people and cater for the needs of the society. Madam Governor means well for you and the entire Kitui. Please support her in her endeavours," said Musau.
The Executive then turned to the MCA and told him and his colleagues to stop putting barriers on Ngilu as she works to achieve her goals in changing people's livelihoods.
"The Executive will never kneel before anyone, including the frustrating MCAs, who want to intimidate our governor," said Musau.
He said Ngilu's administration was planning to spend close to Sh800 million Kyome-Kyethani integrated water project whose designs and survey works had begun.
Musau said the governor's leadership will remain focussed towards sustainable development to spur economic progress in the county.
"We need to evaluate our skills as a county and set our priorities right if we are to achieve the much needed development," the executive said.
However, after he concluded his speech, the MCA rose up and countered him on budget 'propaganda'.
He termed as childish claims that the assembly shot down the supplementary budget to frustrate the governor and deny residents development.
After tempers cooled down, Wambua and Musau later proceeded together to the Redeemed Gospel Church in Thokoa where they addressed another crowd together but without clashing.
The standoff between Ngilu and the MCAs began in August when she cancelled a three-day bonding retreat for the assembly and executive in Mombasa, saying such seminars should be held locally to boost businesses.
It intensified last month when the assembly rejected governor's supplementary budget and impeached Treasurer Executive Mary Nguli, citing corruption allegations.