Kenya Airways partners with airlines to boost expansion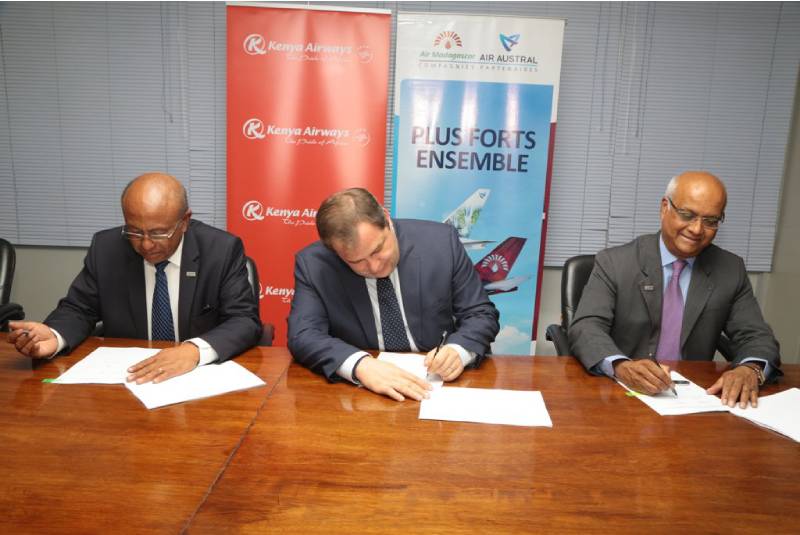 Kenya Airways, Air Madagascar and Air Austral on Tuesday signed a partnership agreement to boost their footprints in Africa and the Indian Ocean Islands, in Antananarivo, Madagascar.
Chief executive and Managing Director Kenya Airways, Sebastian Mikosz said, "Our customers will now have better access to La Reunion and Madagascar. This is consistent with Kenya Airways' strategy to grow its revenue and improve network efficiency by growth through partners while focusing on corporate and leisure segments."
The Memorandum of Understanding (MoU) will see the three airlines increase develop a code share agreement, increase their connectivity as well as offer wide range of services to their clients like destinations through their major hub points.
Rolland Besoa Razafimaharo, CEO of Air Madagascar, Sebastian Mikosz, CEO of Kenya Airways and Marie-Joseph Malé, President and CEO of Air Austral all agreed on a partnership dubbed "Privileged Partnership Agreement" that will help them increase number of customers travelling through their airlines in Antananarivo, Nairobi and Saint-Denis de La Réunion respectively.
KQ and Air Austral partnership will be implemented at a later date while that of KQ and Air Madagascar will be effected in January 21, 2019.
CEO of Air Madagascar held, "Code-sharing with Kenya Airways on the Nairobi-Antananarivo and Nairobi-Reunion routes is a strong achievement and a promising first step as to the opportunities this privileged partnership offers for the three companies. Whether commercial or operational, there are many opportunities for synergies."
Marie Joseph, CEO of Air Austral said the airline was happy about the partnership that is set to offer expansion opportunities in the Indian Ocean Region.
He said, "Nairobi becomes for our customers the gate to the African continent and will allow great developments of trade and tourism. Through the partnership with Kenya Airways, the Air Austral-Air Madagascar Strategic Partnership is on the rise."
The collaborations will enable affiliates of the airlines Tsaradia, Jambojet and Ewa Air from Madagascar, Kenya and Reunion Island, respectively benefit from the operation.
This comes at a time when Kenya Airways has started direct flights from Nairobi to Somalia's capital Mogadishu to help ease travel for thousands of Somalis who live in Kenya as well as those from the diaspora traveling to their native country.