Desperate farmers opt for private millers to buy their maize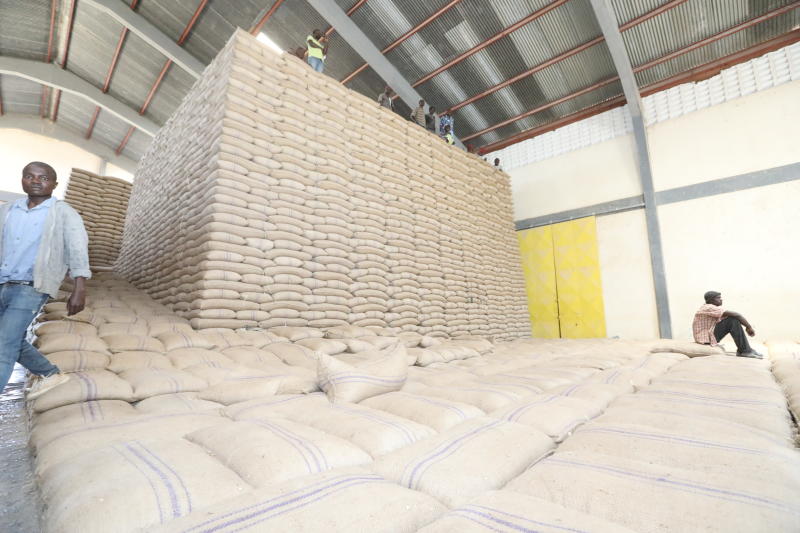 Farmers in the North Rift region are now desperately selling their maize at throwaway prices after the government suspended buying of the produce by the cereal board.
The suspension follows the ongoing investigations on corruption allegations at the National Cereals and Produce Board (NCPB).
Majority of farmers in need of cash are selling a 90kg bag for a paltry Sh1, 700 at the maximum to private millers to cushion them against possible post-harvest losses.
The government stopped buying maize despite announcing that the board would purchase the produce at Sh2, 300 per 90 kilo bag.
Farmers in the region still hold more than 500,000 bags of the produce worth an estimated Sh1.6 billion in their stores from the previous season, further compounding their woes. The estimated harvests this season is projected at 10 million bags.
A rush to millers is expected to occasion a glut, which might get worse as schools open next year because farmers want to pay their children's fees and meet other needs.
Stephen Korir, a maize farmer in Trans Nzoia, yesterday told the Sunday Standard he had taken 170 bags to Kitui Millers in Eldoret. "I have decided to sell my yield to the private miller since I am in need of money and we cannot wait for NCPB to open its doors next year. I will be paid Sh1, 700 per bag," said Korir.
Paying on delivery
He said the private millers pay on delivery as compared to NCPB that takes even one year to pay farmers.
"As farmers we are disappointed how the government has been treating us. Even if millers are buying at a low price, it is better than waiting for more disappointments from the government," he said.
A spot check by the Sunday Standard showed that lines were building up as farmers resorted to deliver their produce to the private millers.
"The government has become very bureaucratic when it comes dealing with to maize farmers. The process of vetting farmers before accepting their maize is very tedious and we are tired of it. That is why you see many farmers have opted for private millers," said Francis Koech, a farmer.
He said farmers prefer private millers because of a seamless process from delivery to payment.
Unga Limited is also buying maize at Sh1, 800 but payment is after four days.
"We are better off selling our produce to private millers who pay promptly than to the government where we are not assured when we will receive the money," said Koech.
He said there is no guarantee that the government will pay for the produce despite setting the prices too low as compared to the previous season.
Kenya Farmers Association Director Kipkorir Menjo said if the government does not allocate more money in the supplementary budget, middlemen will cash in on the desperation of the farmers to offer low prices and hoard the produce ahead of an impending shortage.