Controversy shines a light into how miraa allocation may be dished out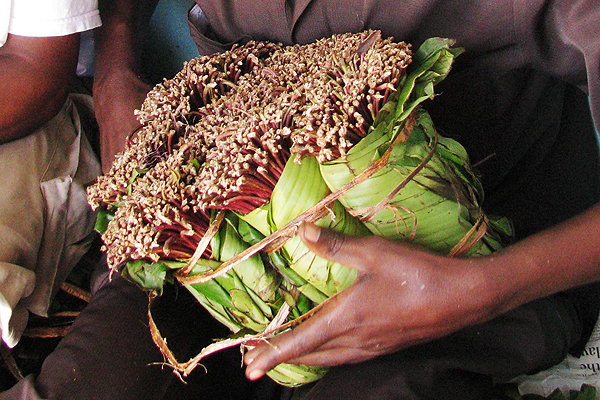 A tasfforce to advise on the use of Sh906 million offered to miraa farmers has come up with a new proposal following wrangles.
The Miraa Taskforce Implementation Committee team proposes to use Sh200 million for market recovery and to hire consultants in the targeted foreign countries to engage their respective authorities.
Another Sh200 million is to be used to sink 30 boreholes in Embu (5), Tharaka Nithi (4) and Meru (21) plus 10 separate earth dams in Embu.
The team proposes to put almost half of the allocation – Sh400 million – into a revolving fund for onward lending to farmers and traders in the value chain.
It is also proposed that Sh70 million be used by the Kenya Agriculture and Livestock Research Organisation (Kalro) to sort out pests and diseases dilemma in the sub-sector.
Some of the funds under this vote are to be used for literature review of research works as a basis to engage markets that are wary of miraa being a drug.
The team has proposed that Sh30 million be used in soil and water catchment conservation, including building of gabbions and terraces, Sh40 million for formulation of regulations and policy, Sh50 million for capacity building and Sh10 million for development of standards and value addition technology.
Other proposed vote lines include Sh10 million for update of miraa farmers' register by completing a contested farm census and another equivalent amount to secure documents for a land parcel donated by the Meru County government near Laare Market for the proposed Miraa Research Institute (MRI).
One of the controversial proposals is Sh20 million for diversification, with Meru getting Sh12 million for purchase of avocado and macadamia seedlings while Embu and Tharaka will share the remaining Sh8 million.
A member of the task force confirmed the proposed votes, saying the team was ready to start implementation.
The proposed votes have come to light after the Meru Miraa Farmers and Traders (Memifatra) Sacco wrote to the President, seeking reallocation of almost Sh492 million.
The sacco claimed some of the votes were a conduit for looting and asked that the funds be sent to the Commodities Fund for lending.