These 'cassava bags' are a sweet deal for the environment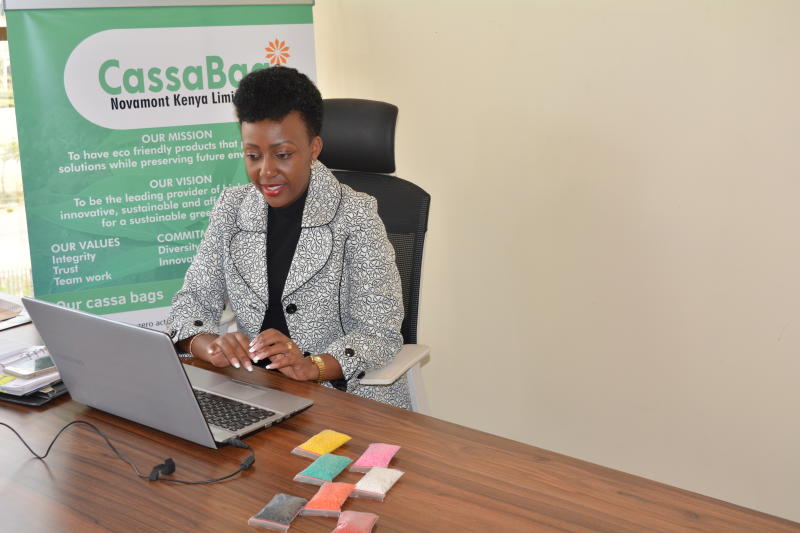 Imagine a customised laundry bag made from cassava starch! And while at it, picture a bin or seed bag with this sweet natural cassava smell.
That's just how beautiful a simple idea borne out of a need to satisfy a desire for a polythene-free Kenya is fast becoming an antidote to Kenya's recurring 'plastic headache'.
The idea came about in 2017, just weeks after the government decided to shake hands with plastic — for good.
As the plastic ban sent ripples in Kenya's business terrain and in most households, Tabitha Mutinda, the founder and CEO of Novamont Kenya Limited, the company behind Cassa Bag, saw it as an opportunity to be part of this beautiful transformation.
According to Tabitha, the product should be at the the top of everyone's must-have list, especially since the government banned polythene bags in 2017.
"It has been a battle for the middle ground, one which Cassa Bag is set to bring an end to," she says with a smile.
Cassa bags are made from industrial grade cassava starch and other natural ingredients. The bags contain zero plastic, are bio-degradable, and melt when placed in hot water.
And for good measure, the bags, which come in various colours and sizes, exude natural cassava starch smell. You can choose to call it 'natural discount'.
According to the CEO, the bags bio-degrade in a matter of months and are fast becoming a mainstream celebration of difference with vast product range.
Tabitha believes that Cassa Bag has succeeded on two levels: One, it has today given Kenyans an affordable, natural alternative. Two, it has sorted out our future, of Kenya going green. In addition, the sweet-smelling bags are complemented with a full range of sustainable agricultural seedling, garbage and laundry bags made from renewable resources. Some of Cassa Bag products include:
Cassa seedling bags
These have good water permeability, so it is easy to let water and nutrients naturally percolate. They also allow seedling root penetration.
Cassa garbage bags
These are soluble in water under high temperatures and are environmentally friendly. The garbage bags come in different colours and sizes.
Cassa laundry bags
The laundry bags come in different sizes and can be customised to meet customer requirements. The bags are durable and can be used and reused, making them the preferred choice as far as environment friendliness is concerned.
The bags are currently available in local supermarkets and online marketplaces like Jumia and Africa Sokoni, with a price tag that makes it much more accessible than a serious designer piece, but still affordable to ensure it has a level of desirability.
A hit in the online community, Cassa Bag has been praised by hundreds of Nairobians for its 'natural nature'.
Indeed, the bags have tapped into the current "spirit of the times" to create a mass appeal in Kenya, and they are affordable.
"The price is unreal compared to the quality," one customer told this writer.
Another one said: "It's a breath of fresh air. It's refreshing that the bags are coming at a time when polythene bags remain an eyesore even with the ban in place." He added that: "The bit on customised laundry bags is most thrilling."
Tabitha says she is focused on improving the corporate hospitality, based on a rational long-term strategy. It does not end there; there is more good news - the company says it is currently working on establishing a manufacturing plant locally by 2019.
"This means that cassava farmers will have a ready market for their harvest locally, which will no doubt empower households economically," says Tabitha, whose company is currently employing over 20 workers.
She quotes Prof Wangari Maathai: "You cannot protect the environment unless you empower the people, inform them and help them understand that these resources are theirs and must be protected."