More illegal buildings to be demolished this week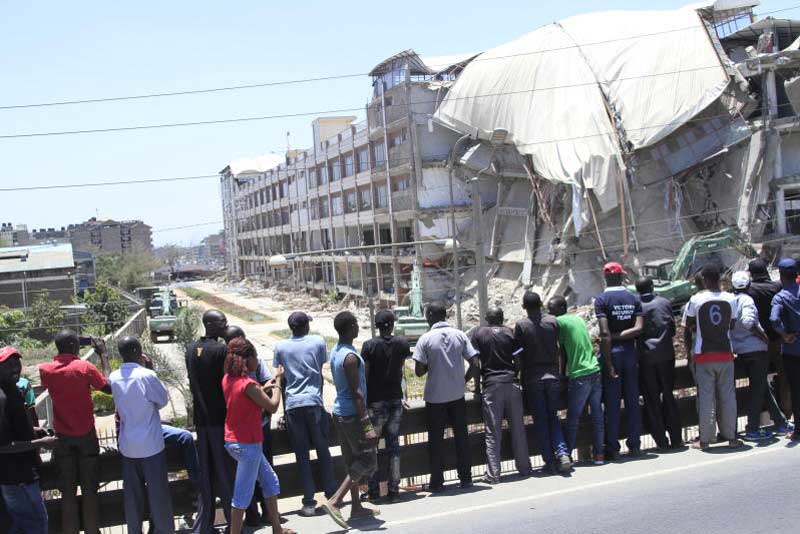 Demolition of illegal structures on riparian land and road reserves is set to resume this week.
This comes after property owners defied orders by Government to demolish illegal structures in notices that elapsed at the end of last month.
National Building Inspectorate chairman Moses Nyakiongera said the demolitions would resume this week because National Treasury had released funds for the exercise.
Unsafe buildings
"We are starting with illegal structures in Huruma estate in Nairobi because this is where we have some of the most unsafe buildings. We have the money and we will continue with our task next week," said Mr Nyakiongera in an interview with The Standard last Thursday.
Seven people were killed when a six-storey building collapsed in Huruma in April 2016. Another three died in Kingston in the same estate when a building collapsed in June, this year.
A multi-agency team made up of National Environment Management Authority (Nema), Nairobi County, Nairobi Regeneration Committee and security agencies began demolishing illegal structures in August.
So far, multi-billion structures in Nairobi, including Nakumatt Ukay, Airgate Mall (formerly Taj Mall), Java Restaurant and a petrol station in Kileleshwa, SouthEnd Mall and Visa Oshwal Centre have been brought down.
The demolition will also be extended to 13 counties across the country as property worth billions of shillings that stand on riparian land is targeted.
A draft report on Riparian Land Conservation and Management Policy Framework has given a shocking assessment of the current state of riparian areas in the country and calls for urgent measures to reverse the trend.
The draft report prepared by the National Land Commission (NLC) Directorate of Research has identified residential structures, economic activities and dumping as the key threats to riparian areas.
Consequently, the report has recommended demolitions and immediate definition, identification, delineation and mapping of riparian lands in the country in order to protect them.
The 13 affected counties are Nairobi, Kiambu, Murang'a, Baringo, Meru, Garissa, Nakuru, Kilifi, Kisumu, Kakamega, Vihiga, Siaya and Machakos.
The Dr Fibian Lukalo-led team's recommends that integrating riparian land conservation and management into national, regional and county land use planning and watershed management is key to conserving the important natural resource.
Preliminary report findings by the NLC report shows that property developers along the Nairobi, Ngong and Kabuthi rivers and Nairobi and Jamhuri dams will lose their investments.
The report has named commercial premises in Ngara, Kware, Mukuru Kayaba, Mukuru Kwa Njenga, Highrise and Mbagathi as among those constructed in riparian land in Nairobi.
90-day notice
The report says that residential structures in Mukuru Kayaba have been constructed along the Nairobi River riparian land, while Mukuru Kwa Njenga sits on the Ngong River riparian area.
Owners of 287 Seefar Apartments in Highrise, Nairobi, are currently entangled in a battle with Nema and Water Resources Management Authority (Warma) over location of their homes said to be on riparian land.
Early this month, Warma extended the deadline for a demolition notice issued to tenants by 90 days, starting November 13.
In Nairobi, Parliamentary Committee on Environment, chaired by MP Kareke Mbiuki, has identified properties along Riverside Drive, Westlands, Parklands, Village Market, Limuru Road, Lang'ata Road, Arboretum Road, Spring Valley, Globe Cinema Roundabout and Fuata Nyayo Estate in South B as among developments sitting on riparian land.
Others are in Kitusuru, Umoja, Roysambu, South C, Githurai and Lang'ata.
Prof Eric Odada, the head of University of Nairobi African Collaborative Centre for Earth System Sciences, said the Government should review the law to allow constructions at least 1,000 metres from the river.
"People who ignore this don't care about the lives of others. This is why we see buildings and people floating in floods," Odada said.
Consumer Federation of Kenya has asked President Uhuru Kenyatta to form an inter-ministerial working group on re-afforestation and reclamation of all riparian land.