Ambitious charter incentive programme rakes in Sh3.7 billion: Balala says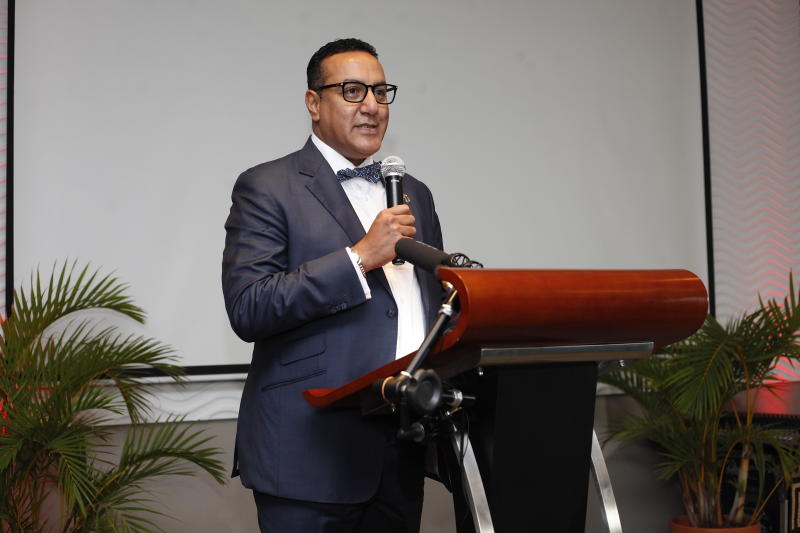 The government has earned 3.7 billion in revenue earnings accruing from the ambitious Charter Incentive Programme (CIP) introduced in 2016.
The sh 1.2 billion CIP package launched by Tourism and Wildlife CS Najib Balala is aimed at subsidising cost of tourist acquisition for charter companies i.e marketing spend they undertake on behalf of Kenya.
It is also supposed to stimulate demand for destination Kenya.
CIP attracts no landing fees for a period of two and half years and comes with a passenger subsisdy of $ 30 per passenger seat filled by international passengers who terminate or disembark in Kenya over the same period.
Tourism and Wildlife Cabinet Secretary, Najib Balala said in Mombasa yesterday that already the government has extended CIP to 2020 after seeing it propel arrivals especially at the Kenyan Coast.
Balala who was accompanied by Principal Secretary for Tourism, Mr Joe Okudo and Kenya Tourism Board (KTB) Chief Executive Officer, Dr Betty Radier and Mombasa County Department of Tourism and Trade Administrator Ms Julia Nyatta said that since CIP was introduced, a total of 55, 000 tourists have come into the Coast destination by March 2018.
'' We have todate managed to attract 15 flights a week up from 9 flights last year all on the CIP package,'' Balala said.
The CS made the remarks while officiating at a reception to welcome Tui Fly Netherlands, a charter flight originating from Amsterdam.
The plane a Dreamliner Boeing 787-8 aircraft landed after a detour to Zanzibar and brought in 120 tourists for holiday at the Kenyan Coast.
'' So far the Kenyan South Coast has been the biggest beneficiary with from the international arrivals,'' Balala said.
The latest arrival comes barely a week after another Tui Fly operated airliner from Brussels started weekly flights into Mombasa. It was followed in quick succession by Lot Airlines of Poland, also operated by Tui Fly.
Balala announced that Tui Fly UK will also be making a comeback later in November of 2019 thus complimenting charter flight operations out of the key source market of Europe into the Kenyan Coast.
The CS said that the government has shown its commitment to revitalising tourism and invested heavily in infrastructure development and at the sametime boosted security in the country.
Balala at the sametime, commended Coastal county governments for supporting tourism by way of sprucing up their towns.
'' We have seen both Mombasa and Counties take the lead in cleaning up their towns and beautifying the destinations thus making them appealing and attractive to all,'' Balala said.
He projected that with sustained international tourist arrivals, the country was poised to reach the 1.7 million international arrival mark by the end of the year, an improvement from the 2017 1.475 million arrivals.
And on its part, Kenya Tourism Federation (KTF) national chairman, Mr Mohamed Hersi said that the Kenyan Coast has continued to be lucky with an increase in charter flights to the region.
'' We are seeing gradual increase and bed occupancies are begining to be filled up now that we have Tui Fly who are deploying the latest Dreamliner aircrafts on the route to Mombasa,'' Hersi who is also Director of Operations at Pollmans Tours and Safaris, the local handling agents for Tui Fly in Kenya said.
Hersi said that with the resurgence in charter flights, focus for Kenyan Coast is looking extremely good.
'' We are banking for an exciting year ender and a more active 2019 as long as there is continued peace and stability in the country,'' Hersi said.
He added that the adjoining Tsavo East and West National Parks which are major tourist attractions were also likely to benefit from charter flights coming to Mombasa.
'' Their proximity to Mombasa makes it easy for quick safaris which are affordable,'' Hersi said.
Pollmans Tours and Safaris Limited Managing Director, Mr Khalid Shapi said that they were extremely excited to have the flights back to Kenya.