Kamal: Drivers are the face of Little Ride, we treat them well…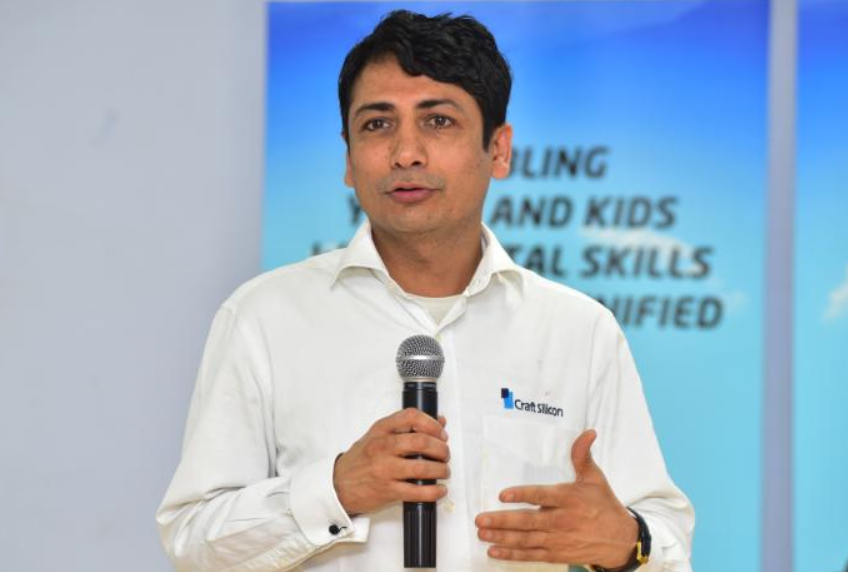 NAIROBI, KENYA: Early last month, digital taxi drivers went on strike largely on matters pricing. However, during the strike that lasted over a week, it was booming business at the Craft Silicon-the parent company that owns and operates Little Ride taxi.
This was evident with tens of drivers jamming Little Ride office based in Westlands as they wait to register-from morning to evening.
"I have been operating another digital taxi platform but am here to register with Little Ride because it offers better rates," begins a driver identified as Michael as he waits for his turn.
He adds, l also hear they have other exciting beneficial packages.
Although it seems the company was capitalizing on the strike, Kamal Budhabhatti, Chief Executive Officer (CEO) Craft Silicon denies saying that was just a normal day at the office.
Kamal however admits, in just one week during the strike, Little Ride had registered over 1000 drivers. He adds, since they launched the taxi company, many drivers have joined them within shortest time possible.
"Since we launched our taxi transport over a year ago, we have over 10,000 drivers operating Little Ride. It was not about capitalizing on the strike," said Kamal.
The CEO discloses their company was not affected by the strike. And, if any of their drivers was on go slow, he or she never communicated to them, as they do always when there is an issue.
He explains: "Our drivers are the face of Little Ride and if they are not happy, things will never be alright. At Little Ride, we give them discounts and a range of products as appreciation."
A week long strike in July paralysed Kenya's taxi services with drivers protesting low commission.
The drivers who use online taxi hailing apps claimed that they spend a lot of time on the road but they don't get better compensation from the service providers. The drivers gathered at Nairobi's Uhuru Park protesting high rates but low commission.
"We need government to regulate online taxi companies, they are taking advantage of citizen," said Judy, a taxi driver.
Although the prices were reviewed upwards following the signing of a memorandum of understanding between the Ministry of Transport and the taxi drivers, Kamal claims that his company Little had all along been paying drivers the highest amount than any other company.
Transport Principal Secretary Paul Maringa who chaired the talks at the Ministry said the department had agreed to sign a MoU with the drivers. They also agreed that no one will change the price without consultation to cushion drivers from exploitation.
Ashish Kukrch Little General Manager for Little Ride also claims their drivers were getting highest amount on the market.
"Paying our drivers Sh 35 per Kilometre was the highest on the market, and it was a constant price that did not fluctuate like those of other providers," explains Ashish.
Ashish welcomed the reviewing up of prices, but promised they will give their clients the best services, since they are paying more.
Kamal reveals they have been giving Little Ride drivers free data of 7.5GB every month which enables them get connected all the time.
The Little drivers also get normal insurance at negotiated discount of 3.75 percent compared to others who giver over 4.5 per cent. "In fact, we are still negotiating and soon it will come down that what our drivers are getting right now," says Kamal.
Drivers can apply the insurance using the Little Ride App and in pay installments.
Richard Kariuki, a driver who had been with Little since September last year says unlike where he worked before, Little has promotional offers which the company pays itself while driver gets full amount.
"From Friday to Sunday, Little has promotion and carries clients at Sh 20 per kilometre. But the drivers are not the ones who pay for the promotions. It is the company that tops the promotional amount and we drivers get our full amount," says Kariuki.
Kariuki also lauds the drivers' emergency loans given by Little Ride. He says he can take an emergency loan of Sh 5000 direct from the App. Kamal reveals the drivers currently have bought around Sh 60million in loans.
Although PS Muringa also said they will be setting up of a rapid response system for the rescue and security of drivers, Kamal explains they already had security for their drivers and clients, called SOS button in partnership with KK Security Company.
Kamal explains: "On the drivers App, anytime our driver finds himself or herself in a compromising situation, he presses SOS button, which alerts KK Security and help comes immediately.
He explains that normally, on cards and corporate trips other providers pay at the end of the week. However for Little Ride they have the option to withdraw immediately or any time they want.
The company also started free computer lesson for children of Little drivers. The program dubbed 'Smart Little Kids of Smart Little Drivers targets s children aged between 7 – 13 years.
"The lessons are held Sundays and intents to equip the Little drivers' children with relevant and practical ICT skills that will nurture technological competence as they grow up," said Kamal, adding the program launched for months ago is on and children are benefitting.
The company has also registered a Little Sacco and all the drivers will be able to save and borrow from the App in the future. "The drivers themselves will run and manage the Sacco," he said.
The drivers reveal they go for classes where they are taught how to use the applications.
Kamal reveals Little is also negotiating with petrol stations where the drivers can fill their tanks and pay later.