NTSA new mapping exercise reveals 273 black spots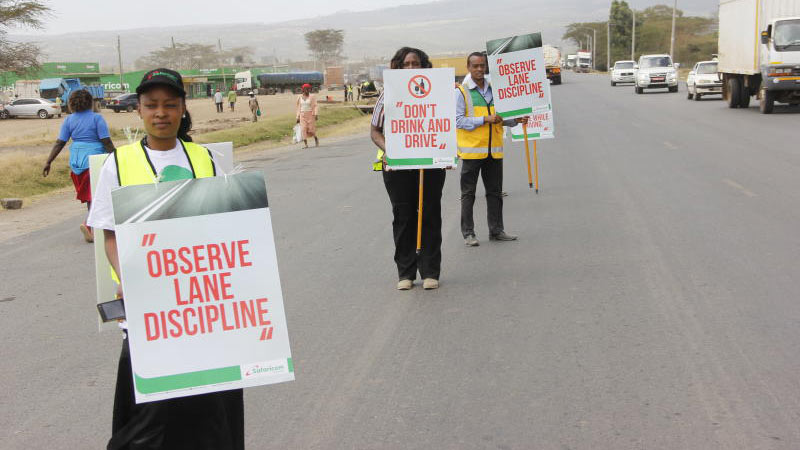 NAIROBI, KENYA: You are safer if you travel by air or Standard Gauge Railway (SGR) to Mombasa than going by road if new findings by the transport authority are anything to go by.
Just from a journey of eight hours and two minutes, there are now 77 black spots identified in a new mapping exercise done by government agencies.
The first one being at Bellevue before one even reaches Machakos County.
By the time one reaches the Machakos- Nairobi County Boarder, they will have encountered seven spots they are likely to die.
This is unlike if they would have travelled by air-which takes at most an hour or the SGR train which takes five hours-to cover a road distance of 481 kilometers according to Google maps.
The 77 spots make up part of the 273 black spots identified by National Transport and Safety Authority(NTSA) after conducting a new mapping exercise of the dangerous roads and spots in the country in conjunction with other state agencies.
Contained in a report launched on Tuesda Northern Corridor and Nairobi County Route Hazard Mapping Report, at least 199 black spots have been identified along the Northern Corridor which stretches from Mombasa to Malaba and is 930 kilometers.
Along the route, it passes through Nakuru, Mau Summit, Kericho, and Busia.
"There is heavy pedestrian and Public Service Vehicle traffic and many undesignated bus stops. There are no road signs and most of the road is unmarked," reads the report describing Kibarana Makupa connection on the Northern Corridor stretch which is a new black spot.
The reason for the black spot is speeding motorists coupled with slippery section during the rainy season.
"Motorists usually make illegal turns to the opposite lane at the depression and there are a number of slow moving trucks due to the hill as well as heavy pedestrian crossing," it adds.
There are a total of 46 new black spots along the Northern Corridor. Six out of the 160 back spots identified in 2013 ceased to exist due to various enforcement and engineering interventions, as indicated by the report.
This could be the reason behind the reducing, but still high number of fatalities of 2,919 in 2017 compared to 2,965 in 2016.
Another 74 black spots have been identified in Nairobi roads alone which cover 360 kilometers.
"Unsafe road user behaviour, inadequate infrastructure for non- motorized transport and missing road signage were the major hazards noted in the study," reads the report in part.
Kenya National Highways Authority, Kenya Urban Roads Authority and Kenya Police also participated in the mapping exercise.
Thika Super Highway, Landhies Road(Muthurwa), Haile Selassie, Eastleigh First Avenue, Juja Road, Jogoo Road, Lunga Lunga, Likoni Road, Kangundo Road and Eastern Bypass are some of the dangerous roads in the city.
Others are North Airport Road, Enterprise Road, Southern Bypass, Naivasha Road, Valley Road, Mbagathi Way, Lang'ata Road, Limuru Road, and Northern Bypass.
In Nairobi, the report reads, black spots exist largely due to lack of designated pedestrian crossings, underpasses and foot bridges in areas with high density in human population near busy roads.
"It is imperative that the needs of vulnerable road users (pedestrians, children, the disabled and cyclists) are identified and prioritized in designing and implementing road infrastructure projects," reads the report.
It was also noted that a number of black spots exist due lack of adequate parking facilities where heavy commercial vehicles park along the road side, posing danger to other road users especially at night and in bad weather.
"Obstruction by trucks has contributed to the existence of black spots in Wuyani, Salgaa, Raiply-Tairi Mbili and Ikoyo Township," reads the report.
The report acknowledged the challenges in the transport sector and noted the need for a complete road audit and fast racking of ongoing engineering works to avert the trend.
Starting a massage therapy business
There's a high demand for massage services from people who want to relax from their busy schedules, reduce stress and anxiety, rehabilitate injured ar