Why expansion of Outer-ring road is yet to be completed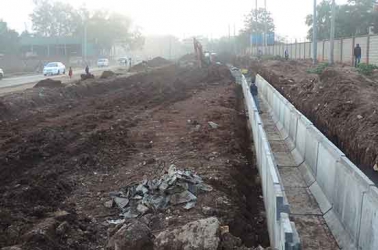 A court order and numerous complaints lodged by residents are to blame for the delayed completion of Outer Ring Road.
Concerns have been raised over positioning of footbridges and encroachment on road reserves.
Residents have also lodged complaints over lack of adequate safety features, especially for pedestrians along the multi-million shilling road.
The Kenya Urban Roads Authority (Kura) on Thursday said construction of a service lane near Taj Mall had begun.
"There was a court case revolving around a piece of land near Taj Mall thus the expansion of the road had been temporarily halted. The order to continue expanding was issued last week and work has begun," said Kura communications officer John Cheboi.
The officer also cited frequent disagreements between residents and the agency, on the positioning of the footbridges, as one of the factors that had contributed to the delay.
Currently, there is only one footbridge against a recommended 11 footbridges, but the roads authority said it was working to address the same.
"We've been negotiating with the residents in the area to see exactly where we can place the footbridges because they have to approve it to ensure maximum usability," he added.
A shift in the design of some of the junctions on the road, such as the Mutindwa section near Sonko Road, has also stalled the completion of the road.
Kura says junctions contribute to heavy traffic but efforts to widen roads had been hampered due to encroachment by residents.
"Last week, we had to evict people from the Mutindwa section, who had encroached on the land, because we want to expand the road to ensure ease of traffic flow," said Mr Cheboi.
According to a report dubbed Comparative Statistics Trends for 2017-2018, Nairobi County was flagged to have recorded the highest number of fatalities, with Outer Ring Road being declared the most risky.