Police seize 21 cars worth Sh30 million in sting operation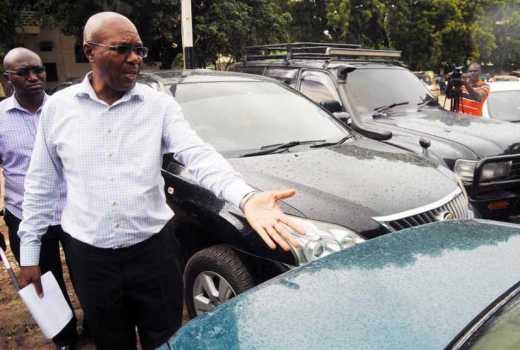 The taxman has impounded 21 vehicles with foreign registration numbers worth Sh30 million at the coast.
The Kenya Revenue Authority (KRA) carried out the sting operation over the weekend, with other State agencies including the police and officials from the Kenya Bureau of Standards (Kebs) in a move aimed at enforcing border control measures.
Nicholas Ngeera, the KRA deputy commissioner in charge of the southern region, said they were acting to enforce payment of revenues.
"The operation is aimed at eradicating all forms of contraband including prohibited goods and motor vehicles imported into the country illegally."
According to KRA, the vehicles were seized after the owners failed to submit valid import documents to support their entry into the country.
"Further, most of the vehicles were being driven by Kenyans instead of foreigners as required by law," Mr Ngeera said, adding that there were no arrests but the owners had been given 30 days to claim the vehicles failing which the cars would be destroyed.
This year, the authorities have crushed 363 vehicles in Mombasa alone.
Sub-standard goods
Elsewhere, scores of businessmen in Taita Taveta County have been arrested for selling sub-standard goods originating from Tanzania.
Some of the goods seized and detained at various police stations include cheap liquor and bottled water.
The State agencies involved in the security operation included the police, officials from Kebs, the Ministry of Health and the National Authority for the Campaign Against Alcohol and Drug Abuse.
"A lot of cheap and sub-standard alcohol is entering the country from Tanzania. The drinks have not been certified by Kebs and dates on the goods do not show when they were manufactured. The owners have also not been paying revenue to the Government," said the inter-agency team leader Henry Thaithu.
But the traders accused the agencies of applying the law selectively.
"The State agencies have told me that some goods I am selling have expired. This is not my fault. The Government should go after the manufacturers and distributors," said Pascal Mutula, a businessman.