Refinery prepares to receive early oil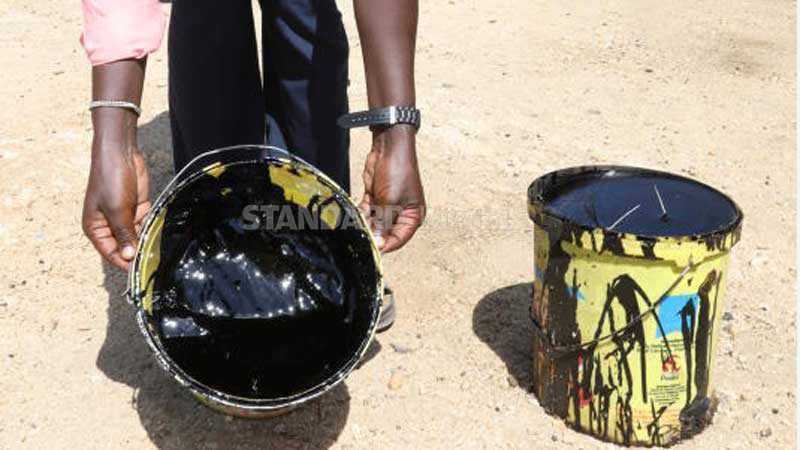 Storage facilities at the Mombasa refinery are being spruced up to start receiving crude oil from Turkana, the Kenya Pipeline Company has said.
The company, which entered into a three-year agreement to lease the Kenya Petroleum Refinery Ltd (KPRL) facilities, said it would have tanks with a capacity of 270 million litres ready to store crude oil for export under the Early Oil Pilot Scheme.
Tullow Oil will produce 2,000 barrels of oil a day at the Turkana fields, which will then be transported by trucks to Mombasa.
It will be stored at KPRL and exported once it accumulates to fill up an oil tanker. The Changamwe-based refinery ceased refining crude oil in 2013 and was converted into a storage facility for crude and refined petroleum.
"Repairs on one tank with a capacity of 90 million litres has been completed. We are working on two other tanks, each with a similar capacity and expect to be done in the next two months. This will bring the total capacity that we have for crude oil from Turkana to 270 million litres," said KPC Managing Director Joe Sang.
He spoke on the sidelines of an oil and gas conference organised by the Kenya Pipeline Company (KPC) Morendat Institute of Oil and Gas in Nairobi.
Mr Sang said the parastatal also planned to upgrade a pipeline connecting the KPRL storage tanks with an offshore loading facility to enable it to handle the crude oil from Turkana.
Repairs on the pipeline are expected to enable the waxy oil to flow with ease from the tanks to the Kipevu Oil Jetty for loading onto ships.
KPC is currently looking for a contractor to upgrade the pipeline. Sang said recent modifications at KPRL would enable the loading of the crude onto ships.
"The procurement process is still going on, but before the pipeline is ready, we will be able to export the crude following modifications that have been made at the refinery," he said.
Mining and Petroleum Cabinet Administrative Secretary John Mosonik said crude oil production might be scaled up from the planned 2,000 barrels a day to 4,000 barrels.
"We will be producing between 2,000 and 4,000 barrels a day, which will then be stockpiled at KPRL until there are sufficient quantities for export," he said.
The pilot project has faced delays owing to haggling over what proportion of the oil revenues should be given to the county government and the host community.
This has, in turn, delayed the Petroleum Bill in Parliament.
The pilot was expected to start this month but it seems it will take longer to resolve the impasse on revenue sharing.
Production was initially slated to start in June, 2017, but it was put on hold, with the Government citing lack of enabling legislation.