President Kenyatta assures investors of stable business environment
NEWS
By PSCU | Apr 18th 2018 | 2 min read
By
PSCU
| April 18th 2018
NEWS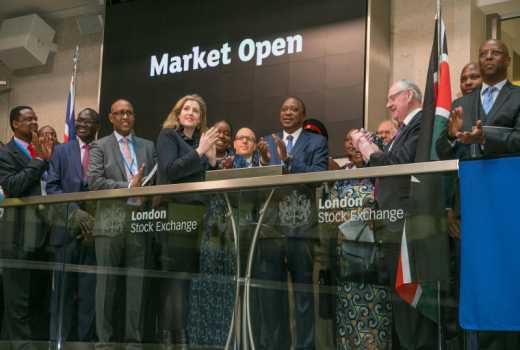 President Uhuru Kenyatta Tuesday assured British investors that Kenya had a stable and conducive business environment.
The President said the country had withstood the immense burden of going through two presidential elections within two months towards the end of last year.
Speaking at a business forum bringing together British investors, Kenyan business leaders and Government officials on the sidelines of the ongoing Commonwealth Meeting in London, the President said Kenya had established solid foundations and was open for business.
"It is there for all to see that Kenya's democracy has matured. Our systems have withstood two elections and we have solid democratic foundations," he said.
The President said Kenya had made appropriate legal reforms for ease of doing business and invested in massive infrastructural developments.
Major sections
"We are delivering on our promise of 10,000km of roads and major sections of the Standard Gauge Railway are complete," the President said at the meeting held at the Fourways Hotel, London.
He said power connections had been increased from 32 per cent in 2013 to 58 per cent currently.
At the forum, investors showed interest in projects in geothermal power generation, housing and the establishment of an international arbitration centre in Nairobi.
Some of the companies represented at the forum included Diageo, Quantum Power, Tullow Plc, Arch Emerging Markets, Barclays, Finlay, TLG Group and Denham Capital.
Earlier, Uhuru kicked off his five-day visit to the UK by presiding over the opening ceremony of the London Stock Exchange.
Speaking after the ceremony, he urged UK investors to increase their investments in Kenya.
The UK is a leading investor in Kenya, with at least 220 British companies running firms in the country.
Investment opportunity
The President, who was joined by Secretary State for International Development (DfID) Penny Mordaunt and chairman of the London Stock Exchange Group Donald Brydon, said Kenya offered the best investment opportunity in Africa.
"Kenya has just recorded the best improvement in ease of doing business. We are inviting more UK companies to invest in Kenya," he said. "Kenya is the third most competitive economy in Africa."
Earlier he had a private meeting with Prince William, Duke of Cambridge, at Buckingham Palace.
The President was accompanied by Cabinet secretaries Monica Juma (Foreign Affairs) and Adan Mohamed (Industry, Trade and Co-operatives).