UK minister hails trade ties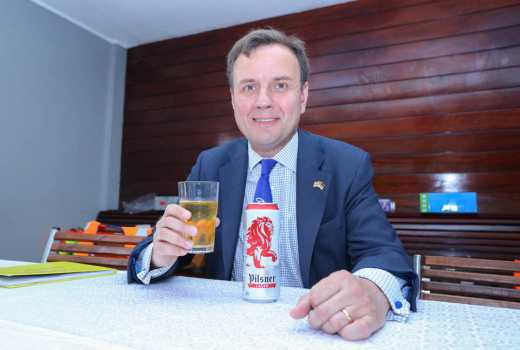 British Minister of State in the Department of International Trade Greg Hands has lauded Diageo investments in Kenya through East Africa Breweries Ltd (EABL) as a mark of the strong trade ties between the two countries.
Speaking during a tour of EABL's Ruaraka plant, Mr Hands said he was keen to see solid trade and investment initiatives between the UK and Kenya and that emerging opportunities are safeguarded by robust trade policy.
Foreign investor
"I'm incredibly proud that the UK is the number one foreign investor in Kenya. As I have witnessed first-hand here, this is not only a long-standing investment but I'm also told of a new plant coming up in Kisumu, which as I understand will provide 110,000 direct and indirect jobs," the minister said.
"That is a massive number of people entering the job market, which I think is a fantastic thing."
In the last five years, Diageo, through EABL has invested Sh30 billion across its East African operations and impacted the lives of over 30,000 farmers to cement its position as one of region's most socially responsible companies.
EABL estimates it will recruit a further 15,000 farmers to supply sorghum once Kisumu brewery is complete.
Andrew Cowan, the EABL Chief Executive said Diageo's presence in Kenya is part of a much bigger picture.
"Not only is this plant in Ruaraka the single biggest plant in the whole population of Diageo, but EABL is deeply stitched into the tapestry of Kenya," he said.
Socially relevant
"We are proud to be a socially relevant participant. Currently, EABL contributes an estimated 0.8 per cent of Kenya's gross domestic product, highlighting our socio-economic footprint in Kenya."
This means that our contribution to the economy is impacting over 1.8 million people, with 250,000 to 300,000 of them indirectly employed in EABL's marketplace."
The visit by the UK minister comes a fortnight after British High Commissioner Nic Hailey visited the company's multi-billion-shilling plant in Kisumu.