Nairobi City residents feeling the heat of charcoal ban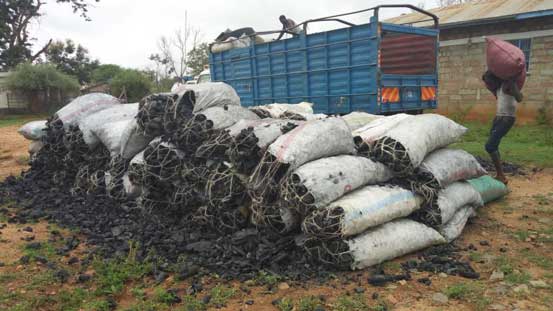 NAIROBI, KENYA: Purity Kawira is 37 years old.
Since arriving in Kibra 20 years ago, the mother of six has relied on charcoal for cooking and warming her house.
"I rely on charcoal because it is cheaper than gas, kerosene and electricity," says Kawira who also operates an eatery at Nairobi's Kenyatta Market.
"I use charcoal in my house and in my eatery," she says even as she bemoans the recent ban on Africa's precious commodity.
To her, charcoal is like a tranquilizer, one which makes life slightly bearable for many like her.
"I don't think I will make a profit in my restaurant business if I stop using charcoal. Of late, I have been forced to use kerosene and the extra cost is eating into my small profit," complains Kawira.
Like thousands of city dwellers who rely on charcoal, Kawira has been forced to dig deeper into her pockets to buy charcoal.
The price of charcoal hit the roof following the recent logging moratorium and ban on charcoal trade in some counties.
A two-kilogram tin that initially went for Sh50 is now trading at Sh100 in the city. This means charcoal has suddenly become more expensive than kerosene, which is retailing at around Sh80 per litre. A 35 kilogram sack today sells for between Sh 3,200 and Sh 3,500.
Some residents are now trying any cheaper alternative, some of them quite risky.
In Kibra for instance, where most households are beneficiaries of 'stolen electricity' from Kenya Power and Lighting Company (KPLC) grids, electric coils are on demand. This has led to increased cases of illegally tapping electricity.
Kelvin Olale says when pushed to the limit, residents will always come up with survival tricks.
"God forbid, what happens in case of an electrical fault resulting from illegal connections?" poses the leader of Mugumoini Youth Chapter.
Irene Akoth is one of those who switched to electric coils because she cannot afford Sh100 for a tin of charcoal.
"Apart from buying the coil, I pay nothing else, neither am I charged for the power consumed. The only fear is my children are exposed to danger," says the mother of three.
The high cost of charcoal has occasioned change of lifestyles in other informal settlements in Kangemi, Kawangware, Mathare, Mukuru kwa Reuben, Mukuru kwa Njenga, Lunga Lunga, Soweto, Dandora, Kayole, Korogocho, Matopeni, Maili Saba, Mwengenye, Kiambiu, Kuwinda and Githogoro.
George Avulala for example has decided to do away with his routine habit of warming bath water to minimise costs.
"I no longer warm water because charcoal is now expensive and scarce," says the resident of Lunga Lunga.
Charcoal remains the most popular source of energy in most city homes, hotels and several institutions. It is locally available, easy to use and cheap. For the poor and middle class in urban areas, charcoal is a reliable, convenient and accessible source of energy.
Jonah Marpash, chairman, Hurlingham East Residents Association (HERA) says most residents use charcoal to warm homes and beat the cold. The commodity is also useful whenever households host parties and ceremonies, according to the official.
"Though I support the ban, I am aware many homes and business enterprises in our estate depend on charcoal. Electricity, gas and kerosene should be made affordable. Alternatively, the forest cover should be increased significantly. In our area, we have embarked on a tree planting campaign," states Marpash.
Following the three-month ban on logging, the price of the commodity has sharply increased. The main sources of charcoal are Kajiado, Kitui, Kilifi and Tana River counties. But county administrators have banned the production and sale of charcoal with strict enforcement.
The government sanctioned the moratorium following a drop in water levels. Before the ban, a sack fetched between Sh1,400 and Sh1,700.
"I usually get my stock from Bisil in Kajiado, but in the past weeks, the supply has not been predictable," says Saidi Nkasiogi, a charcoal dealer based in Kayole.
Charcoal is mainly produced in arid and semi-arid counties, with Nairobi being the major market. Research shows that 82 per cent of urban dwellers use charcoal compared to 34 percent among rural households.
Charcoal business is a source of livelihoods for a considerable population. A 2005 study established that over 700,000 are employed in the charcoal sector. It creates jobs for wood producers, charcoal producers, transporters and vendors.
World Agroforestry Centre found out that, at an individual level and with adequate availability of wood, it is possible for charcoal producers and traders to earn between Sh 240,000 and Sh720,000 annually.
The industry generates revenue for the government through the issuance of licences and business permits. It is estimated that about 60 million bags of charcoal are traded in the country. However, with this huge potential of job and wealth creation, the charcoal industry is viewed negatively.
The charcoal value chain involves several activities performed by different people. It entails wood production, harvesting, carbonisation, packaging and transport, distribution and sale, and consumption.
Jotham Kagombe, the chairman of Forest Society of Kenya, says the ban should have affected only government gazetted forests, but not community and private forests. The embargo is likely to increase the cost of living as well as lead to the loss of jobs and revenues, says Kagombe.
"Charcoal is a source of livelihood for most people who depend on it, including the rich. Charcoal production and consumption shouldn't be condemned," observes the researcher at Kenya Forestry Research Institute.
Kagombe says charcoal production should be encouraged in counties like Baringo, Wajir, Garissa, Turkana, Tana River, Isiolo, Samburu and Marsabit to control the spread of prosopis juliflora (Mathenge) species due to its negative effects on livestock and indigenous species.
Instead of the periodic bans, Kagombe wants the charcoal rules of 2009 fully enforced. One of the key highlights in the regulations is that no person engages in any activity relating to commercial charcoal production and transportation without a valid licence.
Another important aspect in the rules was that producers organise themselves into Charcoal Producer Associations (CPAs). As of 2013, there were about 150 CPAs spread across Kenya.
The associations are responsible for sourcing wood sustainably and ensuring that their members harvest the right species, use the right carbonisation technologies and sell from central collection points.
Other laws related to charcoal include National Environment Policy 2014, Traffic Act, Energy Bill 2015 and Draft Forest Policy 2015.
It is estimated that the charcoal industry generates about Sh30 billion annually yet it is neglected and overlooked by authorities. Charcoal saves the country billions in foreign exchange, which would have been used to import fuel.
More than 25 million cubic metres of wood is carbonised to meet the country's annual demand for the commodity sourced either legally or illegally from rangelands, farmlands and government forests.
Stephen Mutoro, the secretary general of Consumer Federation of Kenya (Cofek), is of the view the Energy Regulatory Commission (ERC) should reduce kerosene prices, while the government should freely distribute charcoal impounded by police and courts.
He says the high cost of the commodity is putting a strain on the budgets of many households, forcing people to either eat half-cooked meals or skip cooking altogether.
According to Mutoro, the moratorium was a knee jerk reaction. "The government should fast track the mwananchi gas project that saw people receive complete cylinders at a discounted price," says the Cofek boss.
Though most species of wood can be carbonised to charcoal, the quality of charcoal varies from species to species. Casuarina Equisertifolia (Autralian Pine), Acacia Mearnsii (Black Wattle), Acacia Polyacantha (White Thorn) and Acacia Xanthophloea (Fever Tree) are some of the species that produce high quality charcoal.
The national charcoal survey established that a majority of trees come from producers' own farms. Charcoal production from people's farms was found to be common in areas of Nyeri, Lugari, Meru North, Kilifi, Bungoma and Maragua.
In these areas, landowners grow trees for fruit production, firewood, building construction and charcoal as a by-product. Charcoal is also produced when new land is opened up to give way for crop production.
While in Kitui and Taita Taveta where land is managed for livestock production, locals clear trees, shrubs and bushes to free up land for pasture production. Charcoal is produced from the cleared bushes.