Manager, auctioneer accused of leading raid on Nakumatt Lifestyle branch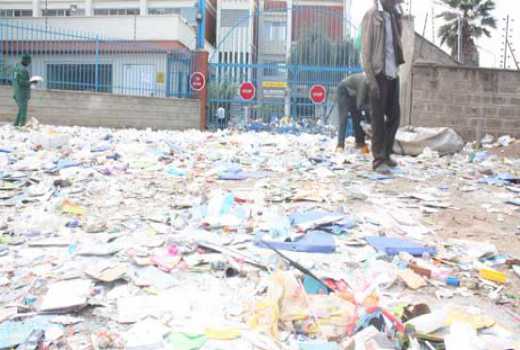 NAIROBI, KENYA: Two people have been arrested in connection with the eviction of Nakumatt Supermarkets from Hazina Trade Centre.
Police said the National Social Security Fund (NSSF) head of security, Samuel Omondi, and an auctioneer who led an operation were being held at the Central Police Station.
"They are being interrogated on the incident before we can take the next course of action, which may include being arraigned in court," said Central Police Division OCPD Robinson Thuku.
He said police had received a complaint that the eviction violated a court order, leading to loss of property.
Police reports indicate that a group of hired youths raided Nakumatt Lifestyle on Nairobi's Monrovia Street on Saturday night and carried away goods in an attempt to evict the retailer.
A guard at Hazina Trade Centre told Metropolitan that a group of people with large trucks raided the supermarket at around 10pm on Saturday night. The supermarket's employees said the raiders removed goods, dismantled shelves, and left under the escort of armed police officers.
Mr Thuku said officers from the Central Police Station arrived at the premises and found the auctioneers loading the goods onto trucks.
Some escaped
"They were around 150 and we managed to arrest 90 of them. The rest escaped. They had already taken some of the goods to Nakumatt's headquarters in Industrial Area but the guards did not allow them into the premises," Thuku said.
He explained that the auctioneers then dumped the goods outside office.
The goods, which included electronics and household goods, were on Sunday morning looted by the public. Nakumatt employees cleared the litter that remained after the looting.
Nakumatt's eviction is a result of a long-running dispute between the retailer and NSSF, which owns Hazina Trading Centre.
In December 2017, NSSF, acting on court orders, sealed off Nakumatt Lifestyle's entrance and clamped the retailer's vehicles due to a bill of Sh73 million in rent arrears dating back to June 2017.
Nakumatt's spokesperson, Alfred Ng'ang'a, likened the eviction to the March one from Mombasa City Mall in Nyali, saying it was illegal.
In January this year, Justice Fred Ochieng ordered the appointment of Peter Kahi as the administrator of Nakumatt Holdings. The administration orders are to accelerate and complement recovery efforts and oversee the restocking of key branches in partnership with key suppliers.
Justice Ochieng is presiding over a suit filed by 100 creditors seeking to liquidate Nakumatt for failing to pay them over Sh4.5 billion.
With the appointment of the administrator, landlords are not permitted to evict Nakumatt from their premises unless they obtain a court order or permission from Kahi. Sources said NSSF evicted Nakumatt without meeting these requirements.
Ng'ang'a said Nakumatt Holdings lost goods worth Sh200 million during the eviction.