How Nakumatt has turned into a shell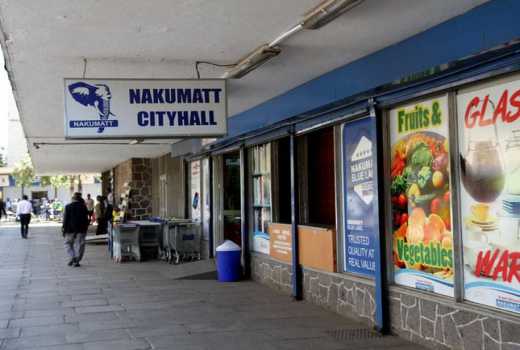 At its height, Nakumatt Supermarkets was the darling of mall owners.
New and upcoming malls were outbidding each other to have the retailer become their anchor tenant and with the promise of human traffic that the chain was almost guaranteed to bring, property owners would use this as bargaining chip and get other tenants that would pay premium rental charges.
According to industry players, supermarkets pay on average 35 per cent of the rate other tenants pay, while restaurants who are also considered anchor pay as low as 50 per cent.
This allure for Nakumatt among mall owners would see the chain sign up lucrative anchor-tenant agreements with numerous new malls, some of which are yet to be completed and now have to go back to the drawing board on who to take up as the anchor tenant.
Even Naivas learnt the hard way that compared to Nakumatt it was but a big duka, when it got into a scramble for space at Next Gen mall along Mombasa Road.
Naivas had bid for the space which it was almost guaranteed of getting. So much that it even started trumpeting to anyone who cared about its newest branch on Mombasa Road. Then Nakumatt came and snatched the space from Naivas.
Today, Next Gen outlet is among the 47 branches that Nakumatt has lost. In about one year the allure is gone.
And all that remains of once East Africa's biggest supermarket is a shell.
Today there are wide spaces greet shop fronts, and the parking lots are empty. A visit to Nakumatt is a visit to a ghost town.
For the first time a report by Nakumatt's court appointed administrator, has flung open Nakumatt's highly guarded closet that is its financial books, laying bare the extent to which the retailer has sunk.
As the Nakumatt brand was eroded with shoppers repeatedly being greeted by empty shelves, Nakumatt experienced a sharp decline in revenues and suffered massive losses that might have won it a spot in the league of worst losses in the history of corporate Kenya.
Nothing is more telling than the loss that the chain made last year. Over the 10 months between February and December, Nakumatt reported a staggering Sh23.4 billion net loss, a free-fall from a Sh3.2 billion loss it reported in the previous financial year from March 2016 to February 2017. And this loss does not include computations for the two remaining months in its financial year (January and February).
The depth of Nakumatt's loss in 2017 is comparable only to Kenya airways' Sh26 billion loss in the financial year 2015/16, termed as the worst ever corporate loss in the country's history.
While signs of trouble began to show in the course of 2016, it is not really at this time that things went haywire for Nakumatt. Indeed, 2016 was its best year in terms of turnover.
Revenues for the year to February 2017 reached Sh52 billion, the highest it ever reached. Nakumatt Mega, Village Market, Westgate, Galleria and Junction were the star performers raking in billions for Nakumatt.
And then the crisis of branch closure started with the best performing branches like Westgate and Junction being shut-down. Sales plummeted by 66 per cent to Sh14.8 billion as stock supplies reduced into a trickle.
Shoppers stopped coming in, as the shelves ran empty. The glossy Nakumatt branches went eerily quiet, only muffled sounds of employees talking amongst themselves- as opposed to the customers- could be heard. Nakumatt was ailing.
Nakumatt, just as a sick person is taken to the intensive care unit, was finally put under administration. And rightly so, Nakumatt is too close to death than life. It is going to take more than a miracle for the Court-appointed administrator, Peter Kahi, to bring Nakumatt back to life.
It is unable to pay its creditors who include suppliers, banks, private corporations, Kenya Revenue Authpority (KRA), and its employees. Nakumatt owes them about Sh35 billion.
All of Nakumatt's land and buildings, worth Sh3.7 billion, have been snapped up by creditors, leaving it with a few motor vehicles, furniture and fitting, computer equipment and leasehold improvements which can only fetch Sh948 million.
"The Statement of Company Financial Position (SCFP) as prepared by Management of NHL as at 31 December 2017 reveals that there is a significant deficit of Sh30.6 billion, which is the amount due to the creditors that would not be covered by the available assets that the company has on its balance sheet as at 31 December 2017," said Peter Kahi, the court appointed administrator.
The administrator's proposal to have some of the creditors waive 25 per cent of their debt and convert the rest into equity has already run into headwinds, after he failed to reach an agreement with suppliers.
And a time when Nakumatt needs all its 17 branches fully open, some landlords do not want Nakumatt in their premises, a fact that jeopardizes the retail store's turnaround strategy.
"City Mall has resorted to executing the defective court orders to ransack the goods and throw them on the streets despite having been paid rent for February 2018. Ridgeways have resorted to switching off electricity… Galleria has resorted to operational disruptions… Cross Roads is also looking not positive towards reopening the branch," said Kahi.
Mr Kahi attributed the falling fortunes to rise in the operating costs as well as high cost of servicing debts as well as declining sales.
"Nakumatt Holdings has been trading profitably from 2013 to 2015, however the profitability is seen to decline over the years. Negative profits from 2016-2017 is as a result of the high operating and finance costs. The profit after tax to sales ratio dropped from an average of one per cent in 2013-2015 to -158 per cent in the 10 months of 2017 due to a huge drop in sales," said Kahi in the report.
Two years ago, Nakumatt had a different, inspiring story. It was the poster child on how to run family businesses.
Nakumatt is among the few family businesses where the ownership baton was smoothly passed to the next generation, a rarity in Kenya where family businesses collapse once the founding generation is out of the picture.
Nakumatt grew from a retail shop to the giant that it was at its peak with 60 stores not just in Kenya but the region. Part of the success lay in how Mangalal Shah, founder of what was then Nakuru Mattresses, handed over the business to his sons and how Atul and Hasmukh Shah were able to further build on it and grow it into an empire.
Nakumatt can no longer lay claim to these accolades. And its fall has been like that of a Mugumo tree, affecting even other sectors other than retail.
Malls have been forced to rethink their strategy. Mall owners are now looking for alternatives since given the size and investment for the new malls, it is necessary that they are able to attract shoppers from wider geographically area, and sustain the same over time.
Property consultancy Knight Frank Kenya, which manages a lot of malls, they considered diversifying anchor tenants from supermarkets after the experience they had with Nakumatt.
"Alternatives were considered—including some brands that are already here and others that are looking to enter the market—but it is important to have a supermarket in a shopping centre development," said Ashmi Shah, Retail Portfolio Manager at Knight Frank Kenya.
Supermarkets were not necessarily serving the whole retail market anyway with the 4 biggest supermarkets only controlling 30 per cent of the domestic retail business with rest of the business going to smaller local supermarkets.
Nakumatt operated a total of 64 outlets across East Africa as of December 2016 (45 in Kenya, nine in Uganda, five in Tanzania and three in Rwanda). These have shrunk to 17 and the chain is struggling to sustain adequate stock levels in the remaining 17 outlets that are still open. It is at the same time fighting off landlords that are bent on kicking the retailer out of their premises due to failure to pay rent.
And perhaps the retailer was biting off more than it could chew in opening numerous branches successively and at times, two at the same time. According to the proposals by the administrators, Nakumatt might not achieve such a footprint as the one it had even in 10 years. Instead, the administrator recommends growing branches at a slower rate so as to reach 30 branches by the year 2030.
The company had, at its peak, employed about 6,500 members of staff but this has gone down to 3 000. The employee headcount is expected to further go down to 1 800, according to proposals by the administrator.
"The number of staff at one point was over 6 000, this was reduced to around 3000 prior to administration and will undergo further reduction down to 1,800 based on the branches that will be opened. The wage bill was also high and generally the salary levels paid by the Company," said Kahi in the report.
The fall of Nakumatt and the general the decline in allure of supermarkets as anchor tenants has seen other tenants make demands, clamouring for rent refunds as footfall was no longer guaranteed and piled pressure that malls find a big anchor tenant and not just replace Nakumatt and Uchumi with mid or third tier supermarkets.
Waterfront which comes into operations between the Hub, the Junction, Galleria and Karen Shopping centre will have a challenge as the population cannot sustain such immense concentration of malls.
Freda Rutere Mbugua General Manager WaterFront Karen says that they will target a different approach as a must-visit place for families looking to spend an afternoon of relaxation.
"Other than being the most eco-friendly Mall, The Waterfront is designed to provide a Town centre feel for our visitors, offering outdoor green recreational facilities around our 3 acre Lake and a 1.2Km jogging track '' Ms Mbugua General said.
The Waterfront Karen, is set out on 50 arces and will be second biggest mall after two rivers. It will offer 200,000 Square feet of retail space so the mall management expects that the running track, like the one at Jefferys in lavington will provide the mall with much needed footfall on daily basis.