World Bank in fresh multi million bid to improve Kisumu infrastructure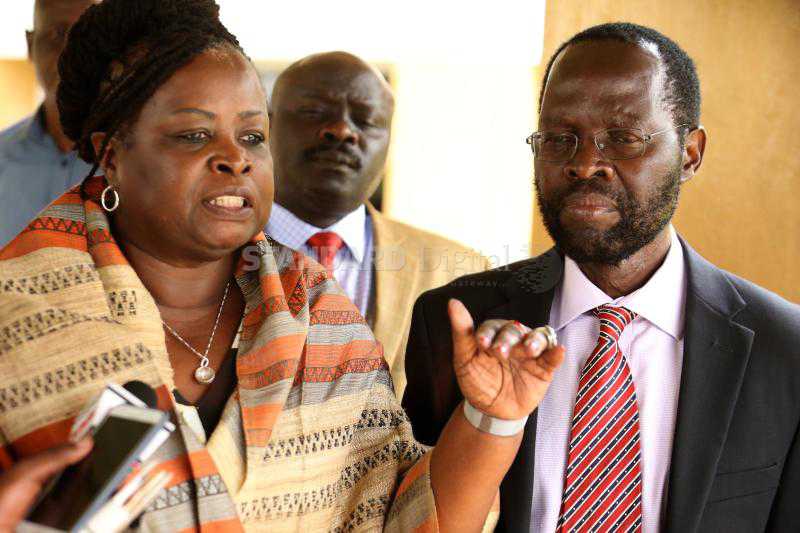 Plans by Kisumu County to upgrade slums by building modern and low cost houses got yet another major boost of Sh700 million to be released each fiscal year for six years.
According to governor Prof Anyang Nyong'o and CEH Housing Nelly Achar, the money will be disbursed through World Bank's sponsored Kenya Urban Support Program(KUSP).
The deal was reached at a World Bank and KUSP consultative meeting between the county authorities and KUSP officials on Tuesday at the governor's board room.
The aim of KUSP is to support the establishment and strengthening of urban institutions and systems to deliver improved infrastructure and services in the area.
World Bank is currently financing array of infrastructural projects in the county including and not limited to housing, roads, water, health and environment among others
The Bank is keen to change the living standards of the shanty dwellers through slum upgrading project that targets Nyalenda, Kaloleni, Obunga, and Bandani estates.
Nyongo and Achar were happy that such projects that will impact people's livelihoods for generations to come through KUSP.
The Kisumu leaders also hailed the project as a milestone, saying it would minimise the number of residents living in shelters that do not meet the standards of habitation
The governor disclosed to the Bank that they had plans to introduce light rail as an alternative transport to ease movement of goods and services especially cane hauling.
''This would reduce pressure on the roads and massive traffic snarl ups,'' Nyong'o asserted amid applause from th financiers who termed the idea as noble to effect.
The governor also termed the Support by the global Bankas key to help them unlock the hitherto underutilized regions economic and social capital potential.
Achar on his part, called for introduction of ducting to avoid cases in future where power lines block project lines and delay construction works.
Ducting refer to a cable and wiring strategy in which a run of cables are organized in duct pipes near a high-traffic area of the data center or above data center cabinets.
''Adding cable ducts eliminates the need to run cables underneath flooring. If this is adopted then in future there will be no relocation of sewer or power lines,'' said Achar
Yesterday, the global Banks senior Officials visited Kisumu County where they also toured select projects financed by them that were either ongoing or were complete.
Th team was led by the Country's Director Diaretou Gaye and Senior Urban specialists Abdu Muwonge and KUSP officials led by former County Commissioner Mabeya Mogaka.
''We are here to access and evaluate some of our projects but you must make sure that you account for the works which must be done according to the designs,'' she said
Sources confided to the Standard that earlier, the Bank's meeting was hot with the World Bank officials being so strict with project financing and accountability.
The Banks and KUSP officials reportedly raised the red flag of delays to implement the informal settlements even after being funded.
In focus was Kenya Power and Lighting Company that was put to task to explain why they were slow to relocate the power lines that fall within the funded project areas
But KPLC County Manager Eric Chaga disclosed that they had finalised plans to move fast to relocate the power lines on the project implementation areas.
This was in apparent response to claims by the Kenya national High way Engineers led by Charles Okeyo that some of the projects stood on their pathways.
Okeyo cited Kisumu-Mamboleo dual carriage way that connects the town to Kakamega and the suburbs, where power and sewer and water lines had blocked the progress.
Nyong'o put the authorities to task to show course at the heated meeting as they promised to do so with the next one to two months for the project to beats its deadline.
Present were Nyando MP Jared Okello, World Bank lead transport specialist Josephat Sasia, Kenha engineers Kepher's Seda and Felix Osongo and a host of county ministers.