Jambojet launches daily flights between Nairobi and Entebbe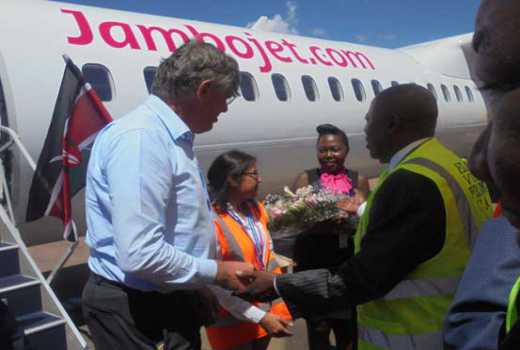 Jambojet, a subsidiary of Kenya Airways on Wednesday launched daily flights between Nairobi and Entebbe in Uganda on its first regional venture outside Kenya.
The airline's Chief Executive Officer Mr Willem Hondius said the four year old airline had come of age after operating successfully within Kenya and was set to connect the larger East African region with cheap flights.
"Our vision is to enable more East Africans travel faster and safer to their destinations by air with fares they can afford and Entebbe is but the beginning We have within our sights Rwanda, Eastern DRC, Tanzania, Malawi, Zambia, South Sudan and even Somalia," stated Mr Hondius when the inaugural flight touched down at 11.30 am to geysers of welcome from a standby water bowser amid song, pomp and dance.
He said two daily flights would depart Jomo Kenyatta International Airport, Nairobi at 9.10 hrs and 17.30 hours and depart Entebbe International Airport for Nairobi at 11.00 hrs and 19.20 hrs respectively, adding that the frequencies could increase if demand so dictated.
"Our fares on this route to be served by the recently acquired 78 seater turboprop Bombardier is the lowest at US$116 one way to attract more travelers," said Mr Hondius.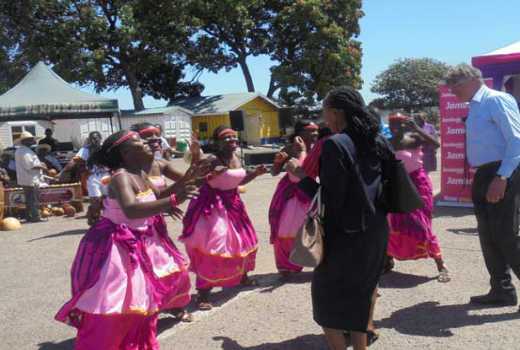 He said cheaper regional flights envisioned by Jambojet had the potential to boost the tourism industry. "Uganda in particular is home to the scenic source of the River Nile, Murchison falls, Queen Elizabeth National Park and the Bwindi National Reserve that hosts the rare mountain guerillas," noted Mr Hondius.
Uganda's Minister for Transport Mr Andrew Bugiire said in a speech read on his behalf by the Director of Transport in the Ministry of Transport and Housing Mr Benson Kajuna that there was need to build capacity to allow local businesses to access to foreign markets through cheap connectivity.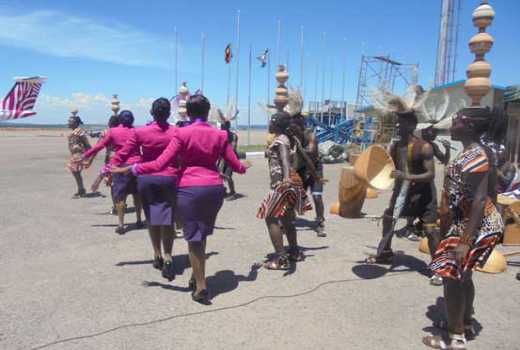 "Air transport and connectivity supports exports and simultaneously increases completion and choice in the home market from foreign based producers," he said.
The managing Director of Uganda Civil Aviation Authority Mr David Kakuba said Uganda had embraced the liberalization of air transport within the region in line with the Yamoussoukro declaration of 1988 that implies designated airlines can operate as many times as they wish.
Also on hand to welcome the inaugural Jambojet flight was Kenya's High Commissioner to Uganda major Gen. (RTD) Geoffrey Okaya.